Showing the single result
: 110/Pack
: 3-1/2 x 5"
: Deskjet and Laser Printers
In stock
Ships within 1 Business Day
We Offer Many Benefits to Ensure Your Business' Success
Regardless of the material your item is made of, the versatility of our laser printable labels can meet your specific requirements. You can use them on metals, tins, glass, plastics, papers, cardboards, envelopes, and more. Whatever business you are in, you can use our label stickers to print vibrant labels that will not go unnoticed. Our labels also comply with the requirements of most shipping companies like DHL, UPS, FedEx, and USPS.
If you want to enjoy the benefits that enKo Products offers like discounts and convenient payment, feel free to register here to become a member.
Print With Confidence & Achieve Superb Results With Our Various Label Sheets
enKo Products offers adhesive labels in various sizes to meet the different needs of our customers. They are much affordable alternatives to Avery sheet labels. You do not need to worry about compatibility issues with your laser or inkjet printer because our label sheets are designed to work with various inkjet and laser printer models.
They offer a dependable feed without causing jams and misalignments for you to produce smudge-free and attractive labels for your products. Now, you can enjoy professional-looking labels with crisp texts and eye-catching images.
Pros & Cons of Paper Label Sheets
Pros

Cons

More affordable compared to other sheet label materials like vinyl or film labels.
Although the traditional color of paper labels is white, a wide array of colors are also available.
They have great printability (they can withstand high-temperature printing conditions and have good ink adhesion.
Since inks adhere easier to paper, the labels produced are clearer and sharper compared to other labels.
They can come in matte or glossy finishes.
You can print labels on them faster so they are ideal for high-volume label printing applications.
They can be easily applied to almost all types of surfaces. 

They are not durable. Although varnishes or lamination can improve their durability, they are still not as durable as film or vinyl labels.
They are not that resistant to environmental conditions such as sunlight, water, wearing, and tearing.
They can wrinkle or rip over time if not properly applied to the item's surface.
They have shorter lifespans. They are likely to fade and turn yellow compared to film or vinyl sheets.
They are solid and do not have transparent or opaque options.
Best Inkjet & Laser Printer for Labels
Labeling is an important task for every business owner. It makes product organization easier, especially if you have a huge inventory. However, you need a reliable label printer that can meet your business' specific needs while keeping your expenses at a minimum. Printing your own labels allows you to control your own production pace, unlike when you outsource from a third-party printing firm.
Whether you are looking for the best label sticker printer for home or commercial use, below are the top printers that can handle the challenges associated with label printing. All of enKo Products' sheet labels are also compatible with these printers:
#1 Canon PIXMA PRO-100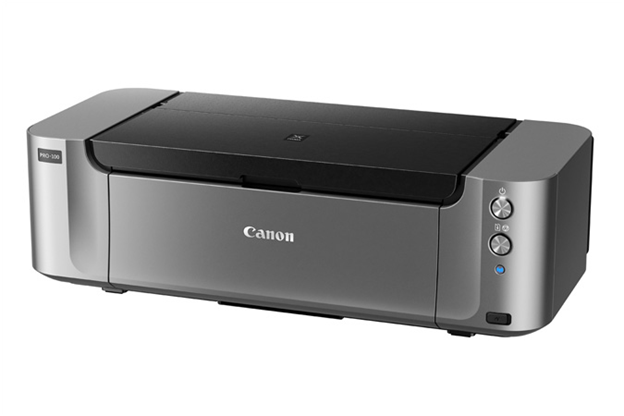 Source: Canon Store
Key Features

Price

$499.99 at Canon Store

Printing Technology

Inkjet

Print Speed

Up to 51 seconds for A4 paper with border

Print Resolution

Up to 4800 x 2400 DPI (Black & Color)

Supported Media Types

Plain: Plain Paper, Canon High-Resolution Paper
Super High Gloss: Photo Paper Pro Platinum
Glossy: Photo Paper Plus Glossy II, Photo Paper Glossy

Supported Media Sizes

4 x 6
5 x 7
8 x 10
Letter
Legal
11 x 17
13 x 19

Connectivity Options

Hi-Speed USB
Ethernet
Wireless LAN
PictBridge

Other Features

Wireless Printing
Photo Printing
Grayscale Photo Printing
Optimum Image Generating System
Borderless Printing
Auto Photo Fix II
AirPrint
Check PCMag's Canon PIXMA PRO-100 review here.
#2 HP OfficeJet 6455 All-in-One Printer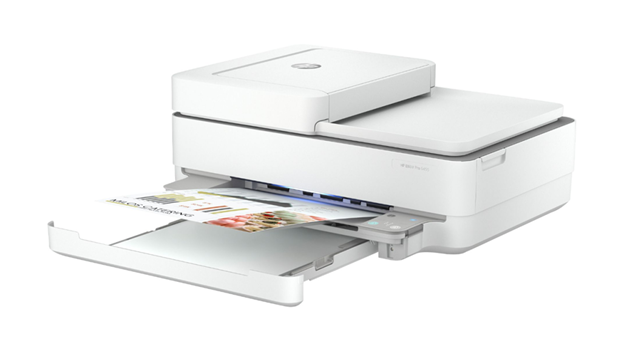 Source: PCMag
Key Features

Price

$149.99 at HP Store

Printing Technology

Inkjet

Print Speed

Up to 100 ppm (black) and 7 ppm (color)

Print Resolution

Up to 4800 x 1200 on selected HP photo papers (Color)
Up to 1200 x 1200 (Black)

Supported Media Types

Plain Paper
HP Photo Papers, Matte Brochure or Professional Paper, Matte Presentation Paper, and Glossy Brochure or Professional Paper
Other Photo, Matte, and Glossy Inkjet Papers

Supported Media Sizes

Letter
4 x 6
5 x 7
8 x 10
No. 10 envelopes

Connectivity Options

Other Features

Borderless printing
Duplex printing
Mobile printing
Auto document feeder
Check PCMag's HP OfficeJet 6455 review here.
#3 Canon PIXMA MG3620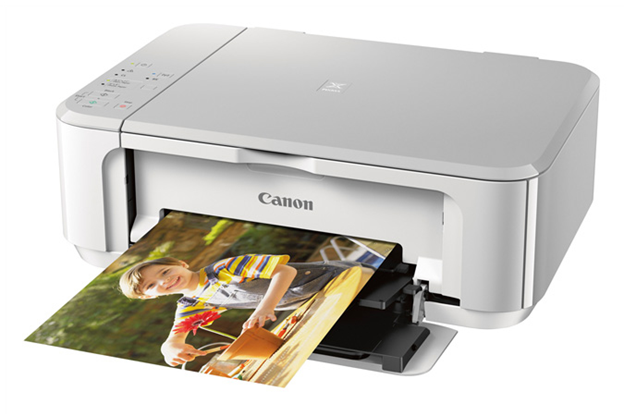 Source: Canon Store
Key Features

Price

$53.99 at Canon Store

Printing Technology

Inkjet

Print Speed

Up to 9.9 ipm (Black)
Up to 5.7 ipm (Color)

Print Resolution

Up to 4800 x 1200 dpi (Color)
Up to 600 x 600 dpi (Black)

Supported Media Types

Plain: Plain Paper, Canon High-Resolution Paper
Super High Gloss: Photo Paper Pro Platinum
Glossy: Photo Paper Plus Glossy II, Photo Paper Glossy
Semi-Gloss: Photo Paper Plus Semi-Gloss, Photo Paper Pro Luster
Matte: Matte Photo Paper

Supported Media Sizes

4 x 6
5 x 7
Letter
Legal
U.S. #10 Envelopes

Connectivity Options

Hi-Speed USB
PictBridge
Wireless LAN

Other Features

Mobile Printing
Special Filters
Quiet Mode
Image Cropping
Red-Eye Correction
Photo Printing
Easy PhotoPrint
Borderless Printing
Auto Photo Fix
Auto Duplex Printing
Check Rtings' Canon PIXMA MG3620 review here.
#4 Epson WorkForce WF-2860 All-in-One Printer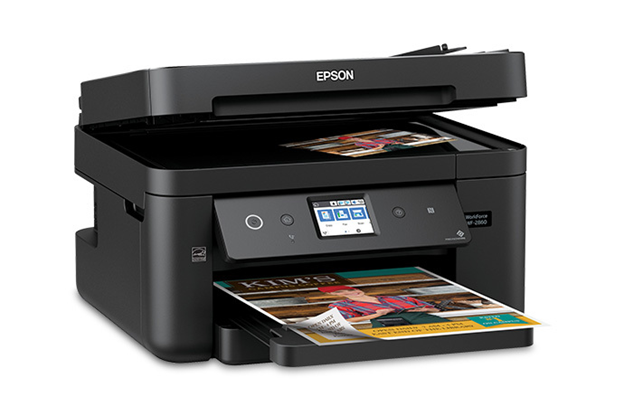 Source: Epson
Key Features

Price

$129.99 at Epson

Printing Technology

Inkjet

Print Speed

Up to 14 ISO ppm (Black)
Up to 7.5 ISO ppm (Color)

Print Resolution

Up to 4800 x 1200 dpi

Supported Media Types

Plain paper
Iron-on Cool Peel Transfer paper
Photo Quality Adhesive Sheets
Photo Paper Glossy
Premium Photo Paper Semi-gloss & Glossy
Ultra Premium Photo Paper Luster & Glossy
Presentation Paper Matte
Premium Presentation Paper Matte (including double-sided)
Ultra Premium Presentation Paper Matte
Brochure & Flyer Paper Matte Double-sided
Epson Bright White Paper

Supported Media Sizes

3.5 x 5
4 x 6
5 x 7
8 x 10
Lletter
8.5 x 13
Legal
A4
A6
Half letter
Executive
User defined (3.5" – 47.2" in length)

Connectivity Options

Hi-Speed USB
Wireless
Wi-Fi Direct
Ethernet
NFC

Other Features

Auto duplex printing
Mobile printing
Hands-free voice-activated printing
Borderless printing
Check PCMag's Epson WorkForce WF-2860 review here.
#5 Canon PIXMA TS6220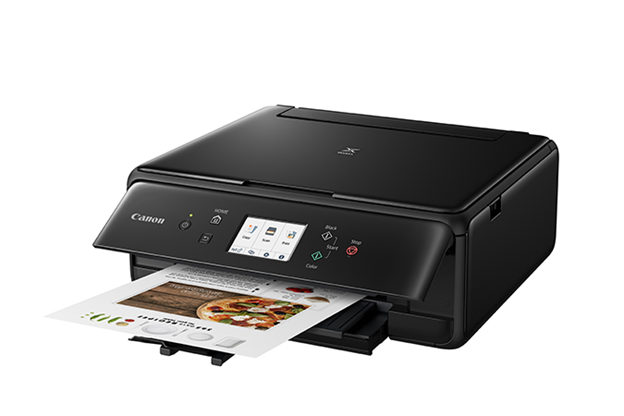 Source: Canon Store
Key Features

Price

$149.99 at Canon Store

Printing Technology

Inkjet

Print Speed

Up to 15 ipm (Black)
Up to 10 ipm (color)

Print Resolution

Up to 4800 x 1200 dpi

Supported Media Types

Plain: Plain Paper, Canon High-Resolution Paper;
Super High Gloss: Photo Paper Pro Platinum;
Glossy: Photo Paper Plus Glossy II, Photo Paper Glossy;
Semi-Gloss: Photo Paper Plus Semi-Gloss, Photo Paper Pro Luster;
Matte: Matte Photo Paper
Other: Greeting Cards, T-Shirt Transfers

Supported Media Sizes

3.5 x 3.5
4 x 4
4 x 6
5 x 5
5 x 7
8 x 10
Letter
Legal
U.S. #10 Envelopes

Connectivity Options

Hi-Speed USB
PictBridge
Wi-Fi
Bluetooth 4.0 LE

Other Features

Auto Duplex Printing
Mobile Printing
Square Media Printing
Pattern Paper Print
Label Print
Easy-PhotoPrint Editor Software/app
Business Card Printing
Borderless Printing
Black Ink / Color Ink Only Printing
Auto Photo Fix
Check PCMag's Canon PIXMA TS6220 review here.
Laser vs. Inkjet Label Printer
If you are printing your first labels, it can be quite challenging to decide whether to buy an inkjet or laser printer. Before you buy one, there are a few important factors you need to consider. Do not base your choice solely on the printer's price. Below is a comparison between laser and inkjet printers to help you decide which one to choose for label printing.
Inkjet Printers

Laser Printers

Upfront Cost

Cheaper (the lowest inkjet printer price is $29.99)

More expensive (the lowest inkjet printer price is $59.99)

Quality

Produce better-quality photographic images.

Produce sharp texts and are good for black and white printing, but a lot of decent laser printers also produce good-quality photos

Compatible Label Materials

White gloss paper
Clear matte/gloss
Standard White Paper
Removable White Matte
Foil for inkjet
Brown Kraft
Radiant Paper
True colors

White gloss paper
Clear matte/gloss
Standard White Paper
Removable White Matte
Blockout for laser
Brown Kraft
Radiant Paper
Clear Polyester
White Polyester

Pros

More affordable initially
Ideal for occasional printing
Can print good-quality images and color prints
More vivid colors

Toner cartridges have longer lifespans
Sharper texts
Gold foil compatibility
Cheaper cost/page
Faster printing speeds
Usually costs less to operate on a daily basis

Cons

Costly to maintain and operate
Slower printing speeds
Ink cartridges do not last that long
Easier to find and come in a wide array of options
More expensive cost/page

There are times that they do not print graphics well
Replacement cartridges are more expensive
The heat from the laser can cause some paper types to curl
Hard to print on stickers
More expensive upfront costs
Label Sheets Printer Practical Buying Guide
Before buying sheet labels for your business, it is good to know the basics to make sure that you buy the right ones.
What Is a Sheet Label?
A sheet label is used to print labels in different sizes and shapes. If there are printer labels that are used to print documents, there are also sheet labels that are intended for printing labels using your laser or inkjet printer.
Sheet labels normally come in 8.5" x 11" sizes (full sheet labels) but you can also find larger configurations, depending on the sheet label manufacturer. At enKo Products, our sheet label sizes range from 1-1/3″ x 4″ to 8.5″ x 11″ and are composed of 110 sheets per pack.
Sheet Labels vs Roll Labels: Which Should You Choose?
Now, let us discuss the differences between sheets labels and roll labels to help you choose which is right for your application.
Sheet Labels

Roll Labels

Description

Blank labels on sheets. One sheet label may contain one or multiple labels depending on the label size.

Labels that are spun around cardboard spools. Unlike sheet labels, they are composed of continuous strips of labels.

Label Printer

Printed using inkjet or laser printers.

You can only use dedicated label printers like inkjet roll printers, thermal transfer printers, and direct thermal printers.

Colors

Both are available in a wide variety of colors.

Sizes

1-1/3″ x 4″ to 8.5″ x 11″

1″, 2″, and 3″ cores

Recommended Applications

Trial label runs
Seasonal products and other products that change regulations or ingredients frequently (e.g. cannabis)
On-demand printing
Good for printing the same information in bulk like return address labels.

Ideal for companies that are printing labels in bulk and need longer runs
Suitable for labeling machines
Good for items that require unique labels like name tags, shipping labels, and barcodes.  

Pros

Affordable options compared to roll labels
Ideal for small companies
Full-color designs
Wide varieties of shapes, sizes, materials, and colors are available
More professionally-looking labels
Easy application

Offer different finish and embellishment options that sheet labels cannot offer
They can be used to print metallic-based colors using semi-translucent inks
Highly-resistant to smearing and smudging since they do not use ink
Can withstand environmental conditions

Cons

Not that durable
Not ideal for large companies printing unique information on labels
Cannot be used for automated label printing

Can only print black and white labels
Large labels are harder to apply
They tend to stay curled after removing from the roll
How Much Do Sheet Labels Cost?
Avery's full sheet labels cost $10.03 per pack with 25 sheets per pack. You can get cheaper alternatives from enKo Products. We offer our full sheet labels consisting of 110 sheets per pack for as low as $9/pack for bulk orders. Our other label sheet sizes cost the same but with different numbers of labels per sheet, depending on the size you want to buy.
Where to Buy Sheet Labels?
You can buy sheet labels from direct manufacturers, suppliers, and online stores. But if you want to considerably save on your expenses, buy from enKo Products -  a reliable manufacturer and supplier of various packaging solutions for homes and offices.
Tips in Choosing a Sheet Label Supplier
Having an inkjet or laser printer from a well-known brand for printing attractive labels is recommended. However, you do not need to spend a lot of money just to get high-quality sheet labels. Third-party sheet label manufacturers, like enKo Products, can provide you with products with comparable quality at much affordable prices.
Take note, though, that choosing a reliable 3rd party supplier is important to ensure the quality of your labels. Below are the most important tips that you can follow when looking for a supplier:
#1 Warranty
If a supplier trusts its own products, it should be confident to offer a warranty for all of its products. enKo Products offers a 2-year warranty with a satisfaction guarantee for our sheet labels.
#2 Responsive Customer Service
Excellent customer service is important for every company to make sure that all customers are satisfied. enKo Products has responsive and knowledgeable customer service personnel who can assist you through the whole process from finding the right sheet label for your application to your post-sale concerns. We can answer your queries in no time.
#3 Positive Reviews
Our last tip is to check customer reviews for the supplier's products and services. This is a good way to make sure that the supplier is keeping its customers satisfied. Below are some of the reviews of enKo Products' previous customers: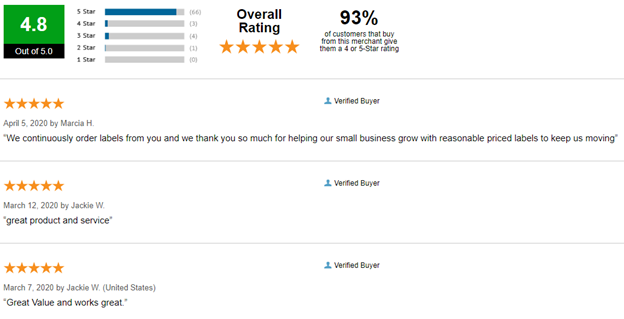 9 Things to Consider When Buying a Label Printer
Having a good-quality sheet label is useless if you do not have a good inkjet or laser label printer. To make sure that you get desirable labels, below are the things you should consider when choosing a label printer:
#1 Your Business' Requirements
Know your specific requirements before buying a printer. Make sure that you choose one that will meet your requirements. Before you decide, consider the following:
Importance of print quality
Number of labels you need
How frequent you will be printing labels (permanently or temporarily)
#2 Features and Properties
Know the dimensions of your desired custom label and choose a printer that supports your desired size. Although all printers support 8.5 x 11 papers, check if the printer supports the material of your sheet label. There are printers that include special trays for other media types of different weights or sizes. Always consider the capacity of the input trays so you won't refill the supply often.
#3 Type of Printer
As we have mentioned earlier, inkjet and laser printers are not the same. Make sure to understand your needs very well before deciding if you will buy an inkjet or laser printer. Color inkjet printers can print almost anything from glossy photos to labels. Modern inkjet printers are also keeping up with the speeds of laser printers.
Laser printers are good for monochrome prints like shipping labels. Choose inkjet printers if you are into color printing. Although there are good color laser printers, they have a more expensive cost per page.
Moreover, if you are going to print barcodes, inkjet printers are more recommended because laser printers do not print that good on synthetic media.
#4 Consider Photo Printers
If your labels contain a lot of images and colors, consider buying a printer dedicated to printing photos. Though they are less flexible compared to multifunction printers, they produce better-quality prints.
#5 Software Required
If you want enhanced efficiency and accuracy levels, choose a color printer with more functionality and a software interface that matches your needs.
#6 Print Speed & Resolution
If you are going to print labels in bulk quantities often, choose a fast printer. However, make sure to consider the print quality (measure in DPI) as well. The print resolution of a printer will vary depending on its print speed.
For barcodes, a high resolution of 300 DPI or 600 DPI is recommended to make sure that the barcode comes out clear and easy to scan. Higher resolutions also allow you to compress more information on your labels.
#7 Print Durability
For items that will be exposed to wet areas (shower or freezer) and in health facilities, you will need durable labels. Unlike inkjet printers that use non-waterproof and UV-sensitive inks, laser printers use lasers to produce prints that can withstand UV light and water better.
#8 Networking Capability
Printers offer multiple connectivity options. The common ones are:
Ethernet — wired and faster connection that is common in office settings than homes
Wi-Fi — the most popular option for homes that also supports mobile printing
Wi-Fi Direct —  allows you to connect your laptop to your printer without connecting to a network
NFC — allows you to connect your tablet or smartphone to your printer by touching our device to your printer
#9 Supply Costs
Finally, consider the cost of cartridge refills or replacement as well as the cost per page. Consider the long-term cost of the printer. Cheaper printers do not mean cheaper supplies. Explore ink plans too.
How to Create Label Sheets in Word?
If you want to create your custom labels, you can create them using Microsoft Word. To give you an idea of how to do this, below are the steps for creating a page containing different simple labels:
Open a new document in Microsoft Word.
Click on the Mailings tab.

Source: AddinTools
Choose Labels from the Create section. This will open the Envelopes and Labels window.
Once you are directed to the Labels tab, click on Options at the bottom to open the Label Options window.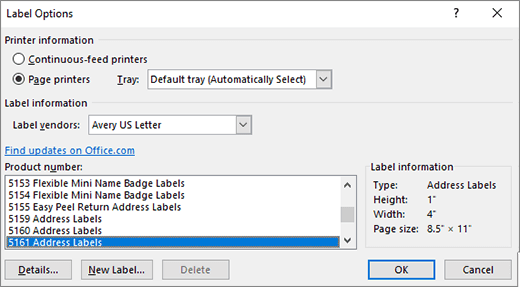 Source: Microsoft Support
Choose your label sheet's brand on the Label vendors dropdown menu.
Choose a product number from the Product number list.
Click Ok. You will be returned to the Envelopes and Labels window.
Click on New Document to create a document displaying blank labels based on the specifications you chose.
There will be a Table Tools menu on top. Click on Layout under it.

Source: Microsoft Support
If you do not see your labels' outline, click View Gridlines.
You can start customizing each label on the page. Add texts, insert images, and more.
Once you are ready to print, go to the File tab and choose Print.
Frequently Asked Questions on Blank Labels for Printing
#1 What Is the Life Expectancy of Paper Sheet Labels?
When stored indoors, paper sheet labels can reach up to 1 to 2 years. This is if the label is not exposed to environmental factors such as heat and moisture.
#2 Can I Use Label Sheets in My Copier?
Yes, you can. enKo Products' sheet labels are guaranteed to be jam-free so you can safely use them on copiers, laser printers, and inkjet printers.
#3 How Do I Preserve Paper Labels?
Covering your paper labels with oversized glass that is thinner compared to normal window materials would be your best option. Apply adhesive to the glass' corners and leave it above your labels' surface. This prevents humidity from being trapped between your paper label and the glass that may lead to the growth of fungus or mildew.
#4 Are Paper Labels Waterproof?
Paper labels are not good with water, so you cannot refrigerate them and apply them on wet or slippery surfaces. Although there are sheet labels that are designed with higher resistance to water, they will still absorb fluids over time which can distort your labels and make them fall off in no time.
#5 Can I Put My Sheet Label Twice Through My Printer?
There are some customers who want to print basic designs on a sheet label first before adding extra information by printing on the same sheet. Although you can put your sheet label through your printer twice, you should not print on the same sheet multiple times.
Your sheet label will be exposed to static electricity, heat, pressure, and others which can affect the material. Thus, you will experience problems with print quality such as the labels peeling off the sheet while printing. Plus, the quality of the adhesive on the sheet label will be compromised.