In stock
Ships within 1 Business Day
In stock
Ships within 1 Business Day
What is Newsprint Packing Paper
Packing paper, also known as newsprint, is a clean and unmarked paper that is suitable for packing and wrapping breakable or scratchable items such as the following:
Plates
Dishes
Pictures
Glass shelves
Mirrors
Polished furniture
Glass tabletops
Glass cabinet doors
Newsprint packing papers are also proven to be more versatile compared to bubble cushioning wraps in many situations. They are easier to use when filling in spaces inside boxes when moving compared to other packing options. You will find them either in pre-cut sheets or rolls. enKo Products sells white newsprint packing paper rolls and sheets for any of your packing needs.
Pros and Cons of Newsprint Paper for Packing
Advantages

Disadvantages

✅ Inexpensive and easy to use

✅ Environmentally-friendly (you can recycle them)

✅ Ink-free and acid-free

✅ Perfect for filling voids inside boxes

✅ They are your best option for protecting delicate and lightweight items with fine surfaces

✅ They do not scratch or leave marks on the item's surface

✅ They can be used in multiple layers for a more effective packaging

✅ Crumpled newsprint packing paper is lightweight but very strong

✅ They occupy less space in packing boxes compared to other padding and filling materials

❌ Can't protect fragile items as well as other packing materials like bubble cushioning wraps

 ❌ Should be used with other packing materials to ensure maximum protection

 ❌ They are not waterproof and shockproof

 ❌ Since they compress quite a lot, you might need more than you think

 ❌ They tear easily
In summary, clean newsprint packing paper for moving is ideal for packing fragile items with sensitive and polished surfaces because it will not leave any marks. They are also excellent for filling voids. However, they tear easily and can get wet so you need to put additional packing material to ensure the safety of your packed items.
Packing Newsprint Paper vs Bubble Wrap
Packing paper and bubble wrap are your first options when you want to ensure that your items remain intact, especially when packing fragile items. Here, we are going to compare these packing materials in terms of their environmental impact and their ability to protect electronics, large items, and surfaces of fragile items.
#1 Environmental Impact
| | |
| --- | --- |
| Newsprint Packing Paper | Bubble Wrap |
| While a lot of companies, such as enKo Products, offer recyclable bubble cushioning wraps, newsprint packing paper takes much less time to recycle. | Recycling bubble cushioning wraps requires a lot of resources and energy compared to packing paper. If you want to help the environment, buy bubble cushioning wraps from companies that are committed to manufacturing eco-friendly products. |
#2 Protecting Electronics
Newsprint Packing Paper

Bubble Wrap

Although bubble cushioning wraps are more recommended for protecting electronics, you can wrap small electronics with few components using newsprint packing paper and group them together before you cover them with bubble wrap.

The packing paper will ensure that the items will not scratch each other. Plus, they take up less space so they are great for bundling multiple items.

Electronics are composed of multiple fragile components that require special cushioning during transportation. Thus, using bubble wrap to pack them can prevent plugs and sharp corners from puncturing the package. 
#3 Protecting Large Items
| | |
| --- | --- |
| Newsprint Packing Paper | Bubble Wrap |
| Packing paper does not have the cushioning characteristics of bubble cushioning wraps. So when packing large items, packing paper is not recommended. Even if you use them in layers, not only will you be wasting a lot of packing paper but also time because they can never give you a strong cushioning as you would expect them to. | bubble cushioning wraps win over newsprint packing paper in protecting large items. They provide excellent protection to appliances during the shipping process because they can absorb shock very well.  |
#4 Protecting Surfaces
| | |
| --- | --- |
| Newsprint Packing Paper | Bubble Wrap |
| While both packing paper and bubble wrap can protect picture frames, dishes, mirrors, and other polished items well, packing paper wins here. Aside from not leaving any marks, packing paper takes up less space compared to bubble cushioning wraps. Less paper is used and you can stack things together without consuming a lot of space. | Newsprint packing paper protects polished surfaces better but you can use bubble cushioning wraps as dividers between heavy items to give them additional cushioning to ensure that they will not get damaged when moving. |
So Which One Wins?
The answer is both! It is really hard to decide which one is better because each has its own strengths and weaknesses. Newsprint packing paper wins when it comes to space efficiency and in protecting the surfaces of fragile items. On the other hand, bubble cushioning wraps are ideal for packing large items and electronics because they can provide heavy-duty protection against damages and impacts.
In fact, we recommend using both newsprint packing paper and bubble wrap when moving to ensure maximum protection for your items. You can wrap your items using packing paper before cushioning them with bubble wrap. enKo Products offers packing newsprint paper on a roll as well as bubble cushioning wraps for your packaging needs.
Types of Newsprint Packing Paper Sheets From enKo Products
enKo Products offers 2 sizes of guaranteed quality newsprint packing paper at best prices that are ideal for packing boxes and wrapping to help ensure the safety of your items when moving or shipping: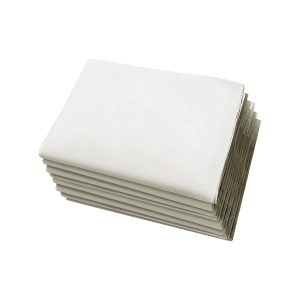 This newsprint packing paper comes in 400 sheets per pack and weighs 20 lbs. They are ideal for wrapping bigger items. You can get each pack at $33.95.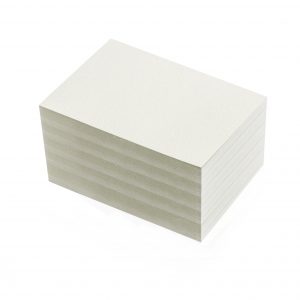 These are perfect for packing small figurines, collectibles, cups, dishes, and others to protect them from scratches. They are available in 500 sheets per pack for as low as $14.54.
Using clean newsprint packing paper in wrapping fragile items is better than using recycled newspapers because they will not leave awful stains, unlike printed newspapers that transfer ink to your items.
Buy newsprint packing paper from us in bulk if you want to get discounts!
Where to Buy Blank Newsprint Packing Paper
You will find a lot of recycled newsprint packing paper suppliers out there, but finding a company with excellent services can be quite challenging.
enKo Products aims to provide you with high-quality packing materials, including newsprint packing paper, to reduce your packing expenses while giving your items the maximum protection they need. Choose our products and we will guarantee you 100% satisfaction. We give great discounts for wholesale purchases.
How to Choose Newsprint Paper Sheets for Packing
The main factor that you need to consider when choosing a newsprint packing paper is CONSISTENCY.
The texture, thickness, and size of the packing paper should be consistent. It should have no bumps and should be nicely packed. Its surface should be smooth to prevent it from scratching the surfaces of polished and fragile items like glassware, chinaware, dishes, and others.
Why Should You Choose enKo Products' Newsprint Packing Papers?
enKo Products is an experienced supplier of a wide variety of shipping, moving, and packaging supplies with great customer service. Thus, we guarantee that all our customers are 100% satisfied both with our products and services.
By choosing enKo Products as your newsprint packing paper supplier, you will be enjoying the following benefits:
✅ Acid-Free & Ink-Free Newsprint Packing Papers
✅ Premium Quality Products
✅ Delivery Within 1 Business Day
✅ 2-Year Warranty For All of Our Products
✅ 100% Buy Back Guarantee
✅ Free Shipping for Bulk Orders Above $50
✅ Sign up on Our Newsletter and Get 10% Discount on Your 1st Order
How to Use Newsprint Packing Paper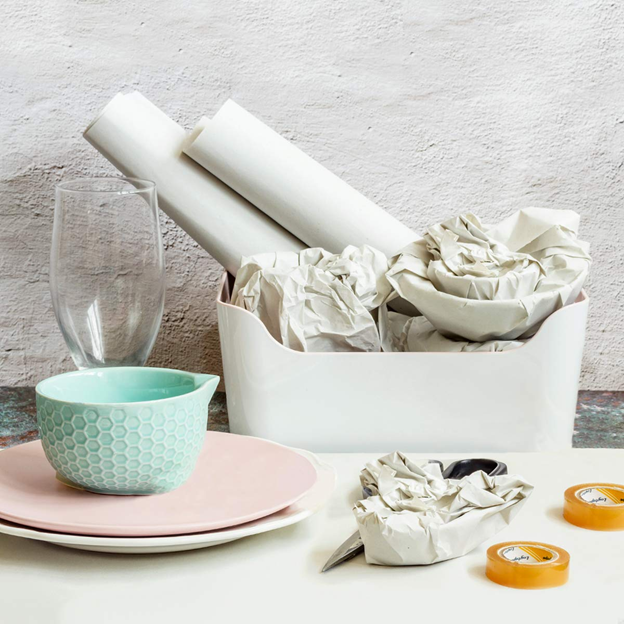 Below are some tips when using newsprint packing paper for moving to ensure that you give your items the maximum protection they need:
#1 As Padding Materials
You can place newsprint packing paper sheets between wrapped items as buffers, especially if you are going to stack them. For example, put a sheet between dishes before you wrap them together.
Wrap delicate items such as vases, figurines, and cups with packing paper and fold it. You can add tape to keep your items tightly bound.
Wrap flat items, such as books and picture frames, like how you wrap presents before stacking them inside a box.
When packing glassware in moving boxes, put them on top of heavier items because they are usually lighter compared to other things.
If you are planning to use newspapers, make sure to use clean newsprint packing paper as your primary protective material before using newspapers for the next layers.
#2 As Space Fillers
The next use of newsprint packing papers is filling empty spaces inside boxes. Once you are done packing delicate and fragile items inside moving boxes, you need to immobilize the content of the boxes to ensure that they will not move.
If you will not fill out your boxes completely, the items inside will move around during transport. They can come into contact with each other which can cause your items to break. Thus, you need to insert crumpled newsprint packing paper in non-filled spaces inside your boxes to secure your items.
It is even better if you lay down crushed newspaper balls on the bottom of your boxes before filling them with fragile and breakable items. They may be thin but they are durable and strong when crumpled.
Lastly, you can insert crumpled newsprint packing paper inside items such as purses and shoes to keep their shape as well as inside fragile items like vases and cups to give them additional support.
#3 Use Them With bubble cushioning wraps
Again, although newsprint packing papers are great alternatives for protecting fragile items, you should not use them alone, especially when packing your most cherished items. Use them together with bubble cushioning wraps for the best results. After wrapping your items with newsprint packing paper, wrap them with bubble cushioning wraps. This will give your items additional cushioning.
Frequently Asked Questions on Newsprint Packing Paper
#1 How much packing paper do I need?
We usually sell our newsprint packing paper in bundles. How much you need will depend on how many items you have to pack. Below is a guideline on how many sheets of newsprint packing paper you will need when moving
No. of Sheets

Applications

200

One-bedroom homes
Studio apartments

500

Homes with multiple rooms
Dish collections

1,000

Larger homes
Many fragile items

2,000

More than 6-bedroom homes
Multiple Collections
#2 What can I use instead of packing paper?
There are other options if you do not want to use packing paper. These include the following:
Newspapers
Magazines
bubble cushioning wraps or corrugated papers for fragile items and figurines
Craft paper or tissue for delicate items
Styrofoam pellets and foam peanuts
Plastic bags with labels
#3 Is newsprint packing paper better than bubble wrap?
Newsprint packing papers are excellent alternatives for bubble cushioning wraps because they are soft and they wrap closely around items. They also offer great protection against dirt, dust, and scratches. Plus, they are much cheaper compared to bubble cushioning wraps.
But because packing papers are much thinner compared to bubble cushioning wraps, you will need to use a lot of sheets to achieve the same padding protection that a single sheet of bubble wrap provides. Moreover, it is true that you can save a lot of money initially when using packing paper but they are more expensive in the long run. Why? Because broken items are more expensive since they cannot provide that much protection.
#4 Is newspaper good for packing?
Newspapers are used the same way as our newsprint packing papers so they serve the same purposes. But you should never use newspapers as your primary protective layers because the ink in them can leave stains on the surfaces of delicate items. These stains can be hard to remove so you need to be extra careful when using newspapers for wrapping your priceless possessions.
#5 Where can I get free newsprint paper for packing?
You can get free newsprint packing papers from:
Schools
Local newspaper offices
Nursing homes
Dentist/doctor offices
Salons
Car dealerships
Hotels
Local recycling centers
Coffee shops
Retail stores
Local libraries