One of the most commonly sold products on the internet is food, and the demand for online delivery spiked when the COVID-19 lockdowns started. Growing alongside this trend is the number of startups filling that gap, for it has become a way for new entrepreneurs to cope with the hard times.
Not everyone is familiar with cyber-marketing, much less knows where to start. At enKo Products, we care about new businesses, so we wrote this blog to help them figure out the best sites for selling food online.
What Websites Are the Best for Selling Food Online?
Food sellers meet the same challenges initially, so it is best to know them before deciding on which platform to use for showcasing your goods. Regardless of the website you end up going with, don't forget that the food business is a highly competitive one. You will thrive in it only if you're willing to learn and put in the effort.
In our blog, The Best Online Selling Sites for Beginners and Small Businesses, we pointed out the different issues that merchants encounter when they trade in cyberspace for the first time. They include seller's fees, payment security, packaging, fulfillment, returns, website customization, etc.
Below, we rounded up the best hosting sites where you can sell food. The first six are more suitable for retail, while the rest offer quick delivery services for both restaurants and retailers.
The Best Food Retail Websites for Startups
Food retail sites are more like distribution chains for food and additives, so delivery can take a day or more. Included in this list are platforms that offer the most exposure to consumers.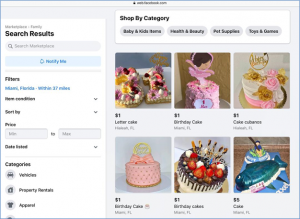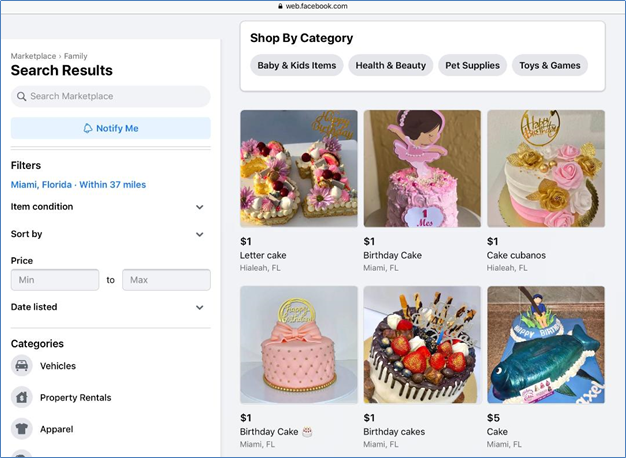 We featured Facebook Marketplace in our previous blog and noted that it is one of the most beginner-friendly websites for e-merchants. The same goes for selling food.
You can use your business or personal Facebook account to start selling. So if your cooking is famous in your neighborhood, social media marketing can boost your business and increase your odds of success.
For the fees, the platform allows you to list your products for free. However, it will charge 40ȼ and above for every item you sell through the site.
Fulfillment can be arranged through the website, where you can buy online postage. Alternatively, you can also plan a pickup, personal delivery, or meetup with your client, which is a safe option if you know each other. You can even offer quick delivery services within your locality, i. e. in less than an hour, depending on how you use your account.
Facebook Marketplace is suitable for startups as it has both the coziness of local ad posting sites and the transaction security features of platforms like eBay.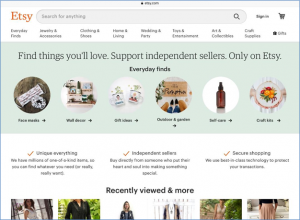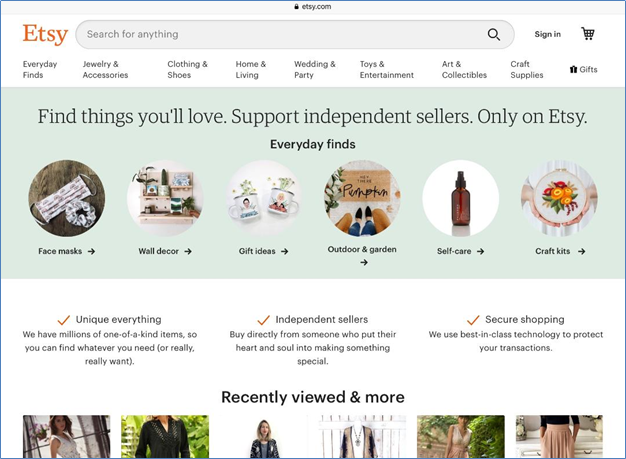 Etsy is a website for handmade products, and its users consider food as such. Merchandise sold on a niche platform like it is limited, but buyer intent is high.
Unlike Facebook Marketplace, the interaction between you and your potential clients is more limited on Etsy. However, it has feedback systems for both buyers and sellers, and it provides a few free marketing tools.
When you use a standard plan, you will not be charged monthly fees. However, listing costs 20ȼ per item, which is active for four months or until the product sells. You will also pay additional fees for advertising, transaction and payment processing, etc. An Etsy Plus plan entitles users to free listing credits, restocking, ads and customization tools not available in the standard plan.
Fulfillment is flexible on Etsy. It allows you to print shipping labels after paying a discounted postage price. If you want to personalize your online store, the platform offers a free 30-day trial for the tools and for hosting it. After that, it will charge a monthly subscription fee of $15 for your shop's new look.
Startups may find it easier to sell on Etsy than sites like Amazon and eBay due to the lower fees and competition level. However, if you did start on those bigger platforms and your items are not selling as quickly as you want, you can import your pages there into Etsy. Additionally, like those two, Etsy is available internationally.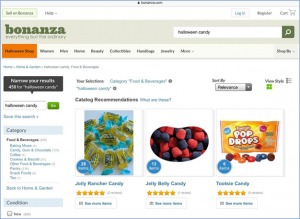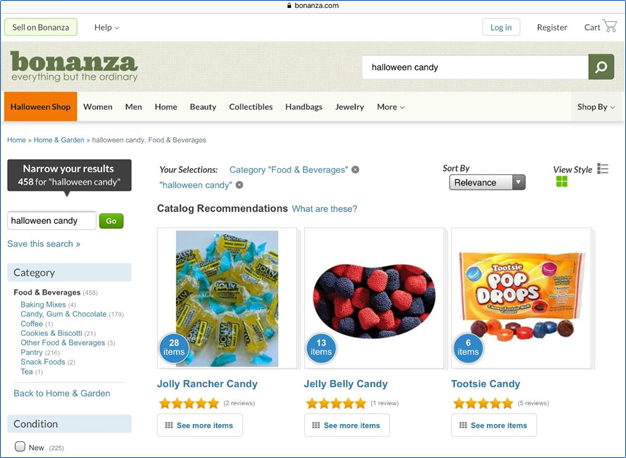 Bonanza is next on our list because it is also startup-friendly like Etsy. It offers a 14-day free trial, and you can set up shop on customizable pages called "Bonanza Booths." Listing is free, and as we mentioned in our previous blog, the site charges 50ȼ plus other applicable fees for every item sold.
Bonanza is widely available in the US and has a limited international reach. As in Etsy, there is less competition on this site. It also allows the importing of items from other online marketplaces.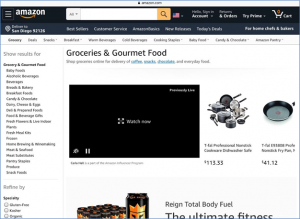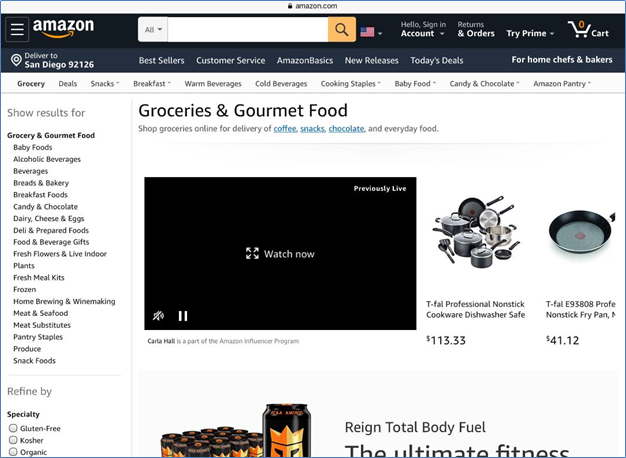 Since we're talking about retail, we should never forget about Amazon, the biggest of all online selling sites. It has the farthest-reaching customer base, but with market giants like Hershey's and Nestle around, you can also find extremely stiff competition on this website. Amazon itself has its own stake in the food industry, as it has the Grocery and Gourmet Food section, shown in the picture here. 
Listing of items is free, with a cap of 40 per month. If you intend to list more than this number, you will have to pay a subscription fee of $39.99 monthly. Per-item sales fees apply. Fulfillment options are flexible, as you can arrange it with your preferred service provider or Amazon FBA. You can deliver anywhere in the US and around the world.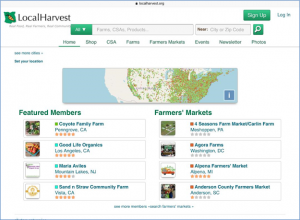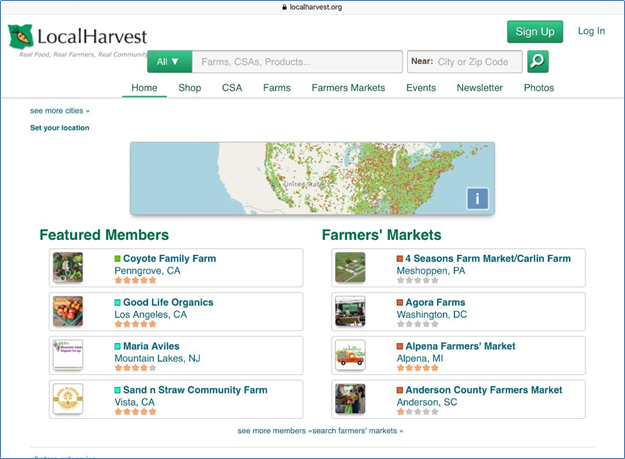 Local Harvest has a much smaller network than the platforms previously mentioned. Originally intended to help American farmers sell their produce, it is now a niche site for local organic food and homemade products.
Listing is free, but the website charges fees for every item it sells, which will depend on whether or not you are a CSA shareholder.
A CSA, or community-supported agriculture, is a system where farmers can connect directly with local buyers. Shareholders pay anywhere from $300-1000 yearly, depending on the CSA, and receive fresh produce every week. They can use the organic ingredients for making food that they sell on Local Harvest.
CSA shareholders pay only a 6% commission plus 25ȼ per online transaction. Non-CSA shareholders pay 13% plus 25ȼ for each item sold. Payment is done securely through the website. Fulfillment is either through pickup or shipment, depending on your arrangements with the customers.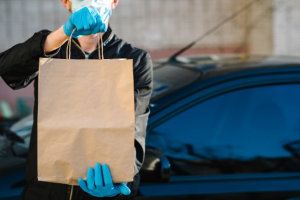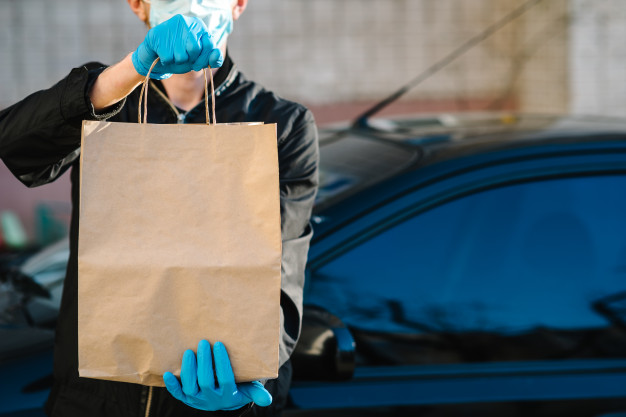 So these are the platforms where startups can engage in food retail easily and reliably. The next four are delivery services that cater more to restaurants but are now also gaining significance in retail.
The Best Food Delivery Services for Startups
The first thing you may ask is, why should rookie food retailers consider registering for food delivery services?
At first glance, the fulfillment of food retail orders with the aid of quick delivery drivers may seem unorthodox, but this practice is neither new nor uncommon. Consumers have been buying online from local bakeries, convenience stores, and grocers for years, and quick delivery drivers have been their bridge. This alternative logistical network has become even more important because of the COVID-19 pandemic.
Food delivery services aim to bring goods to consumers fast, i. e. in less than one hour. Their apps are widely accessible in the US, but the snappy transport involved requires that the products come from sources near the customers. Most vendors in these platforms are restaurateurs, but anyone selling homemade food can also use them to reach a bigger market.
These platforms require heftier fees than sites like eBay and Amazon, but they make small-scale food producers more visible to local buyers, especially millennials.
Studies have shown that 60% of Americans order food online at least once a week, and people in this group typically use two food delivery apps on their smartphones. Consequently, a huge majority of registered merchants say that their sales pick up faster by using these services than when they advertise elsewhere.
So if you're ready to deliver freshly baked cookies to homemade food lovers living 20 miles away, think of using these apps. Below are the current industry leaders: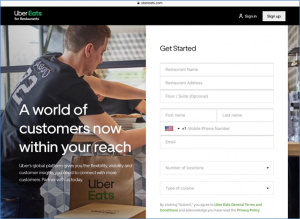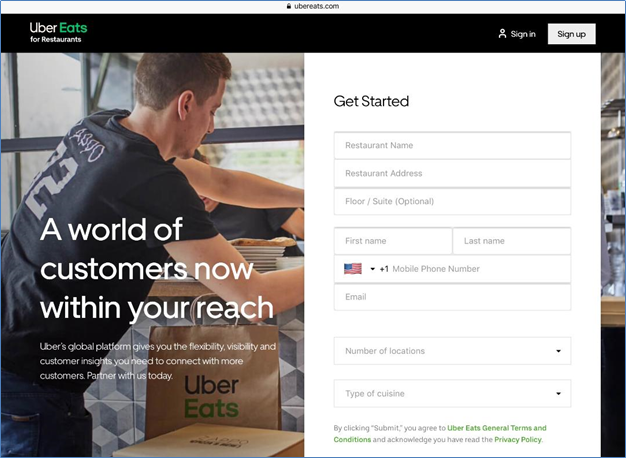 According to Second Measure's business researchers, UberEats is presently ranked second among the US's most popular food delivery apps. However, Fox Business analysts expect things to change with the company's July acquisition of Postmates, another recognizable industry name. We're putting it first on this list because of its potential advantages over the competition.
UberEats is an extension of rider-network giant Uber, a name widely known to tourists, immigrants and residents in expanding metro regions. It can draw attention to your product from a more diverse and rapidly growing population.
UberEats transport options are flexible. You can use its people or yours.
UberEats can deliver a wider variety of goods, including groceries and alcohol.
Some Uber perks can be used on UberEats and vice versa.
UberEats lets you showcase your menu and other listings on its site. The main setbacks of this service include a higher commission on orders, which is 30%, and it does not accept cash payments at this time.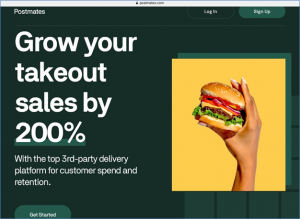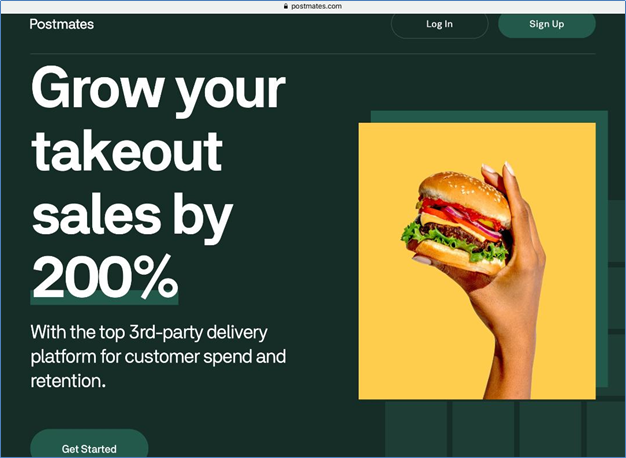 Uber took over the Postmates app in July 2020, but whether it will remain an independent service is uncertain. Like UberEats, it delivers more than just fast food, although it is available in more areas.
It requires customers to pay online through the Postmates Wallet and share credits through gift cards. The website currently does not accept cash payments. Delivery is done by Postmates' network of riders called "The Fleet."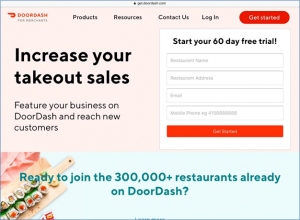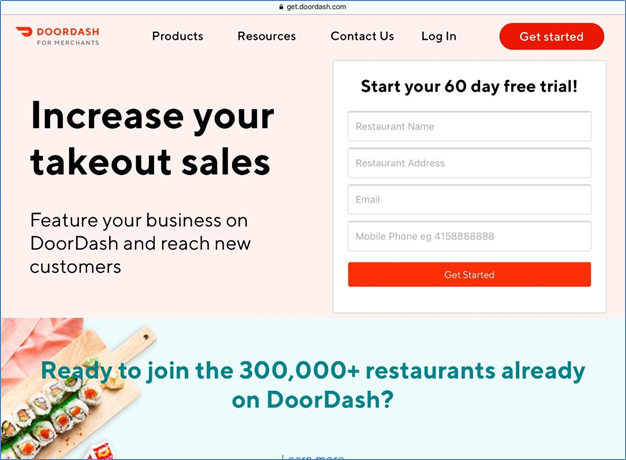 According to Second Measure, DoorDash is the current leader among food delivery apps. It boasts of reaching 80% of US consumers and having a delivery radius of 25 miles. It gives sellers a 60-day free trial, although it will take a 20% commission from each successful transaction. DoorDash promises consumers that its riders can deliver in 45 minutes or less.
Most of DoorDash's partners are restaurant owners, as it primarily delivers fresh food. However, it also allows retailers like 7-Eleven to use its services. The website accepts both online and cash payments and relies on a "network of Dashers" for delivery.
Grubhub mainly delivers fresh food, just like DoorDash. Its coverage of US cities is also comparable, if not greater. It accepts both online and cash payments. Food can either be picked up by customers or delivered by a registered rider.
Should Startups Consider Using Website Builders?
Another option for startups to market food online is by using website builders. These platforms allow sellers to customize their online stores, enabling them to promote their brand early.
You can try them, but their main drawback is that they can make it harder for you to attract attention to your products and compete with more recognizable names. Consumers are less likely to search your brand online if it is not established yet. 
The industry leaders in this group are the following:
These sites require monthly fees and additional expenses for completed transactions and marketing tools. Payments are transferred securely. Fulfillment can be done online, but only Shopify has its own Amazon FBA-like warehouses.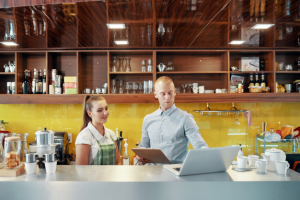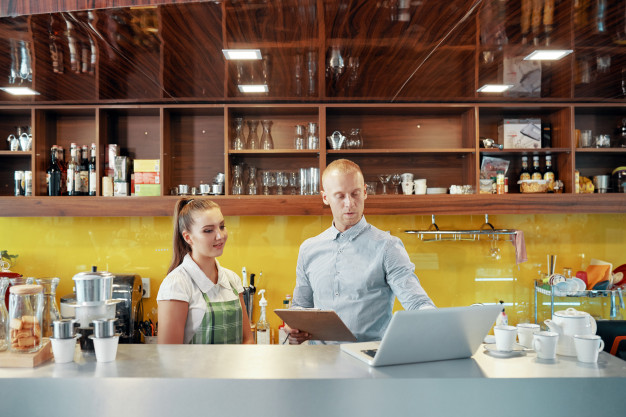 The food industry is a tough one, but a little grit and creative marketing can boost sales and branding. We just presented the best sites that startups can use to accomplish these tasks. We hope that this information we shared can help you build your business.
Because enKo Products is All for the American Food Business!
At enKo Products, we serve American food sellers by supplying low-cost, durable packaging materials. Check out the following items at our online store:
Shop at the enKo Products website today and get loads of discounts for your packaging!