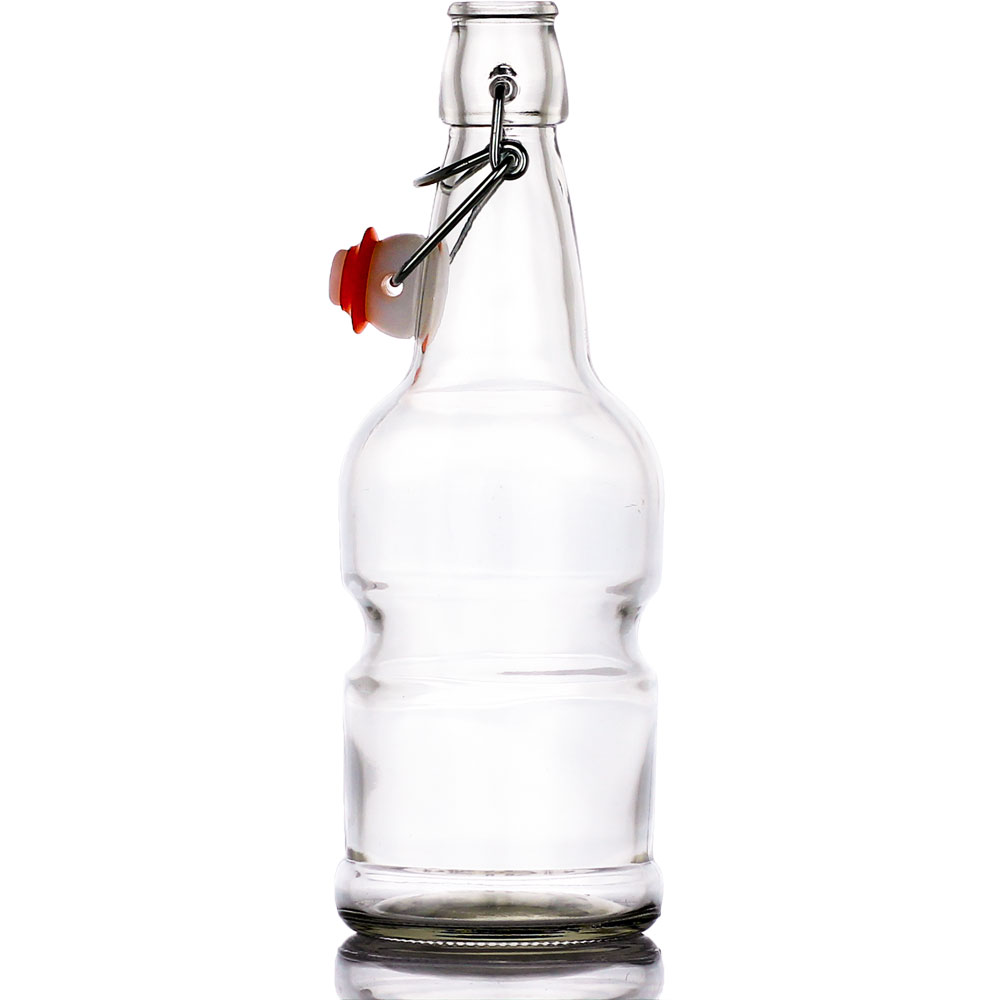 16oz Clear Bottles for Kombucha / Beer with Easy Swing Cap
BUY MORE, SAVE MORE
Buy

6

+
$

3.99

Buy

48

+
$

3.49

Popular Choice
Buy

96

+
$

2.99

Buy

240

+
$

2.50

Buy

600

+
Call or Email

for Quote
In stock
Ships within 1 Business Day



Frequently Asked Questions about Kombucha / Beer Bottles
a. Can I use beer bottles for Kombucha?
Yes, you can. With the right amount of time, you can have a healthy batch of kombucha beer bottles. You can even use plastic Kombucha bottles, although Kombucha bottles glass are a healthier option when brewing Kombucha.
If you want an easier option, you can use our 16oz kombucha beer bottles with easy caps . Our best bottles for kombucha have the right features and materials to enhance your quality brewing experience.
b. Can I use wine bottles for Kombucha?
Yes, you can. Wine and champagne bottles can be used for brewing Kombucha, and other brews. They can have a lot of carbonation build-up and the cork pops out before it breaks the bottle bottles Kombucha. Make sure your flip top bottles have a tight seal for the ideal Kombucha brewing.
c. Can I bottle Kombucha in Mason jars?
Yes, you can. Mason jars are quite useful for second fermentation of Kombucha and tea. Generally, you store the jars in the fridge to preserve its contents and prevent contamination. The fermentation process can be a bit more complicated with a Kombucha jar, though, especially if you're securing some of the materials yourself. Generally, you store the jars in the fridge to preserve its contents.
We recommend using the best bottles with caps or swing top bottles for easier and more convenient fermentation process than Kombucha jars.
d. Do I need to sterilize bottles for Kombucha?
While fermenting, it is crucial to make sure that your Kombucha bottles are clean to prevent contamination. It is not necessary to sterilize the Kombucha bottles, and they need to be clean. It is good to sterilize your kombucha bottles. To sterilize your kombucha bottle, you can use a dishwasher with white vinegar or hot water.
Description
Bottles for Kombucha – 16 ounces – Clear
There's nothing better than the unique taste and fresh flavors of a bottled Kombucha fermented at home. That's why you need a Kombucha beer bottle for the perfect kombucha brewing while enjoying the ease of use.
The 16oz Kombucha Beer Bottles at enKo offer great features. They have clear and durable glass, an easy cap that seals tightly, and healthy materials to enhance your brewing experience. These beer bottles are perfect for brewing and storing Kombucha, soda, or craft beer.
These clear and durable Kombucha glass bottles are manufactured to last over repeated use. Coupled with releasable caps, these Kombucha bottles are convenient to use. The cap affixes easily to the bottles with very little effort. A tight seal keeps contents fresh for long periods. This glass bottle for Kombucha can store 12oz of liquid.
Our Kombucha Bottles are thoroughly packaged to prevent breakage. These kombucha bottles are BPA-free and have a good food grade. This Kombucha bottling is an environmentally friendly and healthier alternative to plastic bottling Kombucha. These Kombucha bottles are dishwasher safe, so you can wash to keep them clean.
Bottle your favorite home Kombucha brew with our 16oz Kombucha Bottles. We sell these containers at a very affordable price. Make sure you order our best bottles for Kombucha today to take advantage of our great offers!
Questions and answers of the customers
There are no questions yet, be the first to ask something for this product.