Avery Labels 5163

enKo Products prides itself on bettering the lives of its customers by continuously bringing affordability, speed and convenience when it comes to purchasing their products. These products include the highly sought after Avery Labels 5163, as well as many others. While enko Products are at the forefront of selling industrial supplies to larger businesses and schools, individual customers may also benefit from their prices and special discounts by shopping online and becoming a member. enKo members gain access to various shopping benefits including free two day shipping on all of your orders and 20% off of your first order.
Prime Purveyor of Avery Labels 5163

Our affordability is an important factor the company takes seriously to ensure that these products accessible to all of our customers.We believe that cost and quality go hand and hand, even though our products are available at a fraction of the price of our competitors.
enKo products specialize in selling a variety of label products for any need such as compatible Avery 2×4 Labels primarily to warehouses, schools, universities, and other public organizations. At enkoproducts.com, you may select from the quantity menu to help meet your specific needs; although we encourage you to take advantage of the option to save on bulk purchases. enKo ensures great prices and satisfaction guaranteed on products such as compatible 5163 Labels, without compromising quality.
Lead Supplier of Avery Labels 5163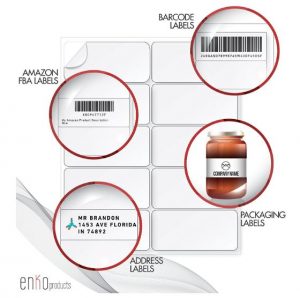 Today's tech-driven world has made online shopping a breeze and enkoproducts.com makes it easy for our customers to order our products like Avery 2×4 Labels, virtually anywhere. Once your transaction is complete, we'll ship your item and we'll provide you with a valid tracking number to help with the ease or purchase. This helps ensure that your delivery will ship with speed and efficiency, provided by our shipping guarantee, your products are expected to arrive within 2 business days, 95% of the time (depending on the carrier and excluding holidays)  *Excludes Alaska, Hawaii, and US Protectorates.
Top Seller of Avery Labels 5163

The convenience that enKo Products offers, guarantees that our customers benefit from all three of our company components. The affordability, speed and efficiency of online shopping for products including our 2×4 labels at enkoproducts.com, is simply unbeatable. The convenience is achieved, through our easy-to-use interface, which makes the purchasing process as user-friendly as possible.Our home page and products are carefully labeled, and we walk you through the checkout process. We also have a "Support" page at the bottom of our homepage for any customer concerns and inquiries.
Check out our 2×4 inch labels on amazon!