What are Packing Foam Rolls & Wraps?
Packing foam sheets and packing foam wrap pouches are lightweight packaging solutions that can safely wrap and protect your items during shipping and storage. You can use sheet foams and packing foam rolls as dividers or packaging foam sleeves/pouches for storing breakable items to prevent chips and scratches.
enKo Products offers versatile and flexible foam sheets, foam cushion rolls, and foam wrap pouches in different sizes and thicknesses. They are made of lightweight non-abrasive materials to provide the ultimate protection for all items.
Pros and Cons of Foam Packing Wraps
Advantages

Disadvantages

✅Affordable compared to other packaging options

✅Come in various shapes, sizes, and thicknesses

✅They are lightweight and good for filling empty spaces

✅They provide great protection for fragile items

✅They are non-abrasive and have good shock absorption properties

✅They are versatile (can be used for wrapping and cushioning)

❌ Difficult to recycle

 ❌ Cannot be used alone

 ❌ Not that strong and easily break

 ❌ Not suitable for heavy items and bigger appliances or auto-parts

 ❌ They are flammable

 ❌ They are non-biodegradable which can be harmful to the environment
In summary, foam packaging materials are affordable, versatile, and lightweight packaging options that are great for protecting small and fragile items from scratches. However, they are not environmentally-friendly and you need to use them with other packaging options to ensure maximum protection.
Types of Foam For Packaging You Should Know About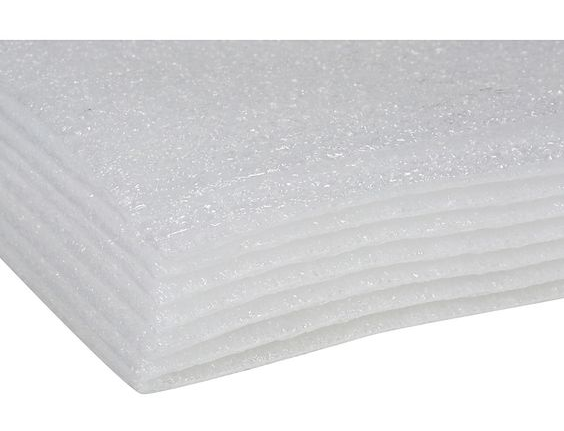 Source: Pinterest
There are 3 major types of foam used in packaging and shipping industries: expanded polystyrene (EPS), polyethylene (PE), and polyurethane (PU). Below is an overview of each of these foam packaging materials.
#1 Expanded Polystyrene (EPS)
This is a very popular foam packaging material and is often chosen over other options because of its cost effectiveness and versatility. It has a wide array of applications in the packaging industry, especially when there is a need for durable, lightweight, and thermal insulating packaging.
Moreover, EPS is also used in creating foam sheets and packing peanuts which are commonly used in filling voids because they have good insulation properties. However, EPS foam sheets are not great choices if you are looking for a packaging material with good shock absorption properties. Since they are rigid, there is a chance that they might break when force is exerted into them. In these instances, polyethylene and polyurethane foam sheets are more recommended because they are better at absorbing shock during transit.
#2 Polyethylene (PE)
Polyethylene foams are among the strongest and most durable closed cell packaging foams in the market. They are popularly used because of their capability to withstand large amounts of pressure without getting damaged.
They are great for absorbing shock and dampening vibrations so they are commonly used to make rolls, planks, and end caps. You can place end caps around items to keep them in place and protect them from damages during the shipping process.
Moreover, polyethylene foams are often used in making large foam rolls with ⅛ inch thickness. They are ideal for providing your items with extra protection by using them to fill voids.
#3 Polyurethane (PU)
Polyurethane foams are a combination of the best qualities of rubber and plastic without the weaknesses of vinyl films. Meaning, they are not brittle and are easy to work with. They are also easy to modify so they can fit the needs of different applications. Custom foam packing shapes can be created using PU foams.
Moreover, polyurethane packing foams are commonly used in wrapping small and light shock-sensitive products. Aside from packing foams, polyurethane is also used in the following:
Carpet underlay
Synthetic fibers
Certain adhesives
Automotive suspension bushings
Elastomeric wheels and tires
Bubble Wrap vs Foam Padding: Which is Better for Your Application?
Bubble wraps and foam pouches/sheets are the most common materials used for packing nowadays, but how do they differ? Below is a comparison of the two:
| | |
| --- | --- |
| Bubble Wraps | Foam Padding |
| They have evenly-distributed bubbles that provide ultimate protection to items against vibrations, shocks, and accidental drops. | They have smooth and soft surfaces so they are gentle to the item's surfaces. They will not smudge or scratch the items so they are perfect for polished items like collectibles, fine artworks, and other delicate belongings. |
| They are composed of air bubbles which make them heavier and they take up more space compared to foam sheets. | They are thinner and occupy less space compared to other padding and cushioning materials so you can save on packaging and boxes used. |
| They are bulky compared to foam packing wraps so they are more ideal for items with even surfaces. | Since they are thinner, they wrap more closely around items which is great for protection against dirt and dust. |
| Because of the bubbles, their bulky surface makes it hard to stack the packed items together. | You can easily bundle or stack your packed items together. Plus, they give thermal insulation to temperature-sensitive items. |
When it comes to the similarities between bubble wraps and foam packing wraps, they are both affordable, lightweight, and non-biodegradable. They are the most lightweight and cost-effective packaging materials so they don't add much weight to your items when shipping or moving. You can reuse them both for DIY projects, crafts, and home hacks. They also provide excellent shock absorption properties.
Although both materials provide excellent protection, your choice of packing material actually depends on the items you are going to pack. For large and heavy items, bubble wraps are more recommended. If you are going to pack glassware and other small fragile items, foam packing wraps would be ideal because unlike bubble wraps, they will not leave marks on the surfaces of your items.
Types of Quality Foam Packaging Materials from enKo Products
enKo Products offers the following types of foam packaging materials that are perfect for shipping, moving, and packing: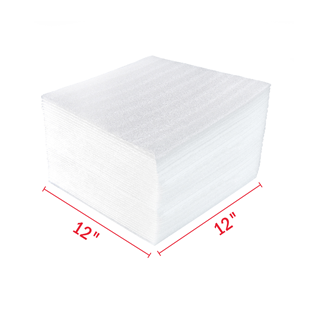 Source: enKo Products
We offer 12″ x 12″ packing foam wrap sheets that are ideal for wrapping delicate items like dishes, glassware, picture frames, collectibles and more to prevent dings and bumps.
You can also use them to cushion furniture legs and corners when moving. They come in either 50 or 100 packaging foam sheets per pack. You can cut them in different shapes and sizes depending on the item you are going to pack.
Our foam pouches for packing can be used to ship small items such as hand-made jewelry, small figurines, cups, and others. We offer the following packaging foam sleeves and foam wrap pouches/bags with ⅛" thickness: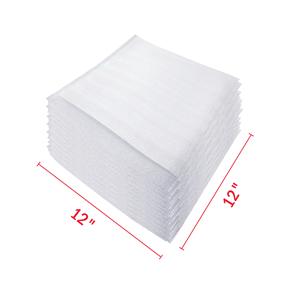 Source: enKo Products
These large foam pouches are great alternatives to packing paper and bubble wraps. One pack contains 50 packing foam sleeves. You can get them for as lows as $9.15/pack.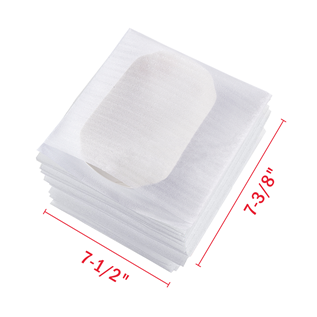 Source: enKo Products
These are specially designed for packing cups when moving. They come in 25 foam wrap pouches per pack for a price as low as $6.52.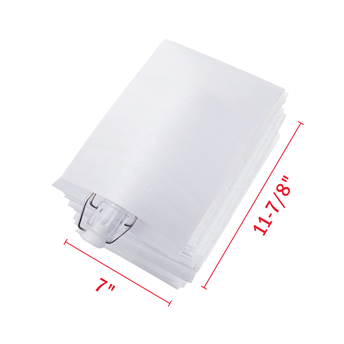 Source: enKo Products
These foam wrap envelopes are for packaging taller items. We offer them in 25 foam packing envelopes per pack for as low as $7.40.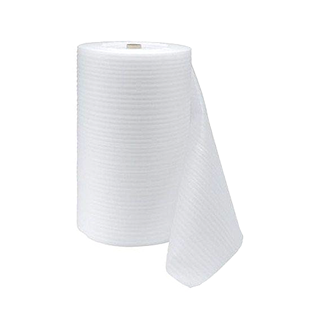 Source: enKo Products
Do you need to pack large items with uneven shapes? Then foam wrap cushioning rolls would be ideal. You can cut them to match your item's shape and size. They are perfect for wrapping electronic equipment, musical instruments, large glassware, and more to protect them against minor damages.
They can be taped to secure your item during transit. You can also use them to fill voids and as dividers when packing your items in boxes to prevent them from scratching each other.
Where to Buy Foam Cushion Rolls & Sheet Foams
You can buy foam pouches, wraps, and rolls for shipping from online suppliers or direct manufacturers. However, make sure to double-check the reliability of the supplier or manufacturer you are going to transact with to avoid problems in the future.
To buy foam packing materials from enKo Products, just navigate to our foam pouches and rolls page. From there, you can filter the results by size, label width, label height, and usage to help you find the right foam wrapping pouch, roll, or sheet you want. Buy foam rolls and foam pouches in wholesale quantities from us to get discounts.
Why Should You Buy Foam Pouches and Rolls from enKo Products?
Below are the benefits you can get from us if you choose us as your foam pouches and rolls supplier:
✅ Guaranteed High-Quality Products
✅ Fast Turnaround Time (Within 1 Business Day)
✅ 100% Buy Back Guarantee
✅ We Offer a 2-Year Warranty
✅ Free 2nd Day Delivery for Orders Above $50
✅ Enjoy 10% off on your 1st order and 5% off on your succeeding orders
Things to Consider When Buying Foam Wrap Rolls, Sheets & Pouches
Below are the most important things you should take into account when choosing foam sheets or pouches for packing your items:
The size and shape of the items you are going to pack
The width and length of the foam pouch or foam sheet
Type of foam packing wrap (pouch, sheet, or roll)
Foam thickness
Purpose of use
Puncture resistance
Reusability
Tips When Using Foam Padding Rolls, Pouches, & Sheets
Make sure to wrap your items in enough foam sheets or rolls if you choose to use them instead of foam pouches. You can use multiple layers of foam sheets/rolls.
Gently shake your boxes to know if you put enough protective packaging. If you hear your item/s moving around inside, you need to put more foam packaging.
Foam sheets and pouches are not ideal to be used alone so you need to use other cushioning materials, such as foam peanuts to fill voids inside boxes, to ensure maximum protection.
Add tape to cut foam sheets/rolls to secure the items you are packing.
Frequently Asked Questions on Foam Pouches and Foam Rolls
1. Are foam packing materials durable?
Since foam pouches/sheets/rolls are made of tiny air bubbles, they are more durable compared to bubble wraps. Unlike foam packing materials, bubble wraps are made of larger bubbles that might pop at any time. However, you can eliminate this problem by using other packing materials in addition to using only bubble wraps.
2. Is foam padding more effective than bubble wraps?
Foam packaging and bubble wrap both offer superior protection, depending on your application. Bubble wraps are economical alternatives for achieving effective protection, especially in long-distance shipping.
On the other hand, foam packaging is more suitable for packing items with polished finishes and delicate surfaces because they can reduce marking, rubbing, and scuffing. They have smooth textures and are non-abrasive so they will not scratch and leave any marks on the item's surface.
3. Are foam pouches and sheets recyclable?
Foam pouches and sheets are hard to recycle and not all communities offer recycling options for these kinds of materials. There are some areas, though, that can process foam materials so make sure that you check the available recycling options near you.
4. Can I use foam padding to pack electrical equipment?
Static electricity is less likely to build up in foam packing materials than in bubble wraps because of the way foam padding is constructed. This makes foam wraps ideal for sensitive parts and electrical equipment.