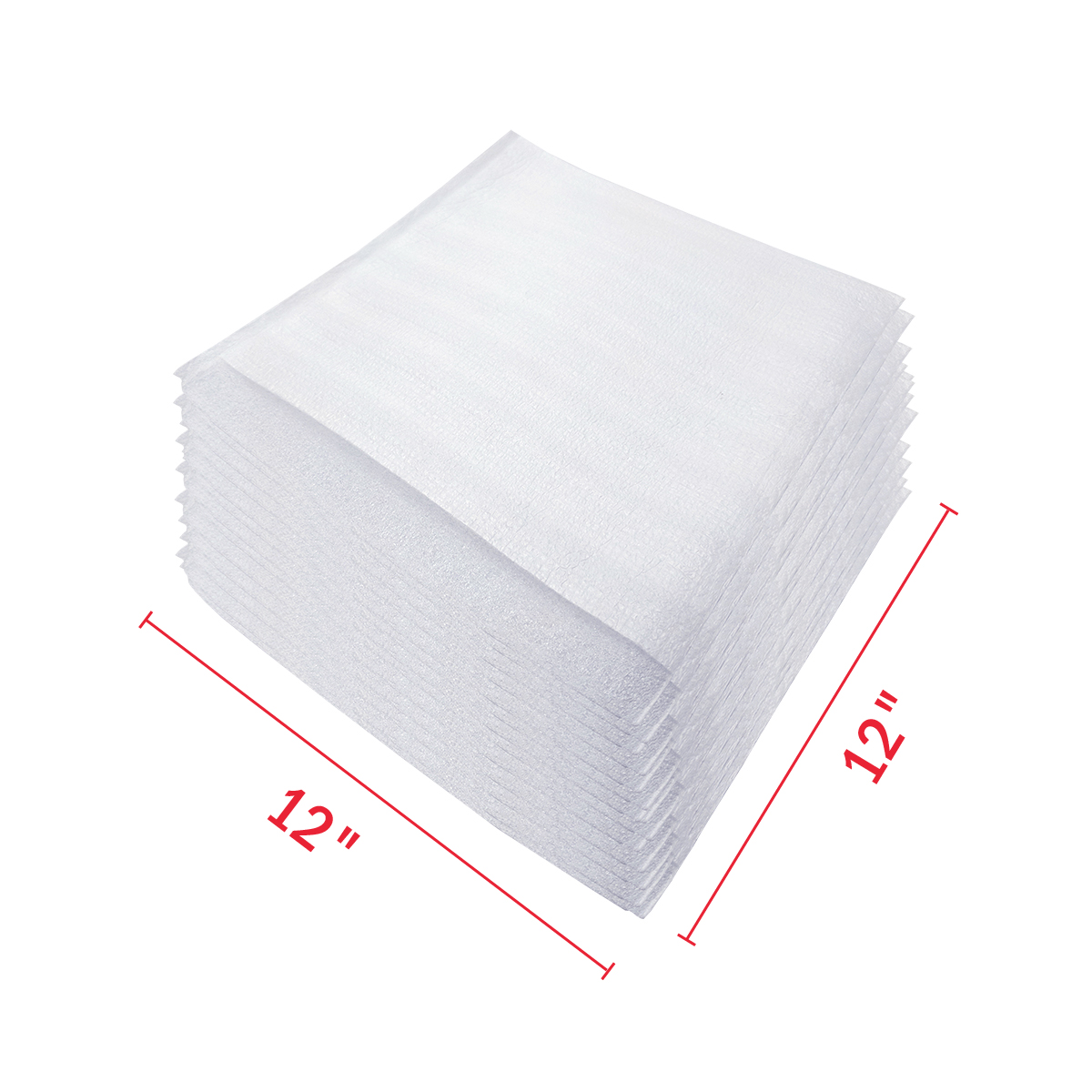 Foam Wrap Pouches / Packaging Foam Sleeves 12″ x 12″ – 50 Packs
BUY MORE, SAVE MORE
Buy

1

+
$

15.95

Buy

7

+
$

14.95

Popular Choice
Buy

25

+
$

13.95

Buy

49

+
$

12.95

Buy

121

+
$

11.95

Buy

241

+
Call or Email

for Quote
In stock
Ships within 1 Business Day



Additional information
| | |
| --- | --- |
| Weight | 0.27 lbs |
| Dimensions | 12.2 × 12.2 × 3.94 in |
| Size | |
Description
PRODUCT SPECIFICATIONS – Foam Wrap / Foam Pouches / Packaging Foam Sleeves
Quality Foam Wrap / Foam Pouches / Foam Packing Supplies at Amazing Prices
50-Pack Foam Pouches / Cushion for Cups and Dishes included (each pouch contains 12" inches x 12" inches) – 1/8 THICKNESS (Great alternative to packing paper or bubble wrap)
SAVE MONEY with our Quality Packaging Foam Sleeves
Don't throw away your hard-earned money, when you can have the same quality products at a discounted price!  Our foam sleeves / Packaging foam sleeves are almost at wholesale costs!  Enjoy high-quality products at amazing low prices with enKo products.
Endless Possibilities – Foam Wrap Pouches Bags 
enKo foam wrap pouches can be used to wrap delicate items, such as glassware, china or dishes. These pouches allow items to take bumps and dings without being harmed.  Many individuals choose our foam pouches when wanting to store seasonal items, collectibles, picture frames, glass items and much more.
Cradle Your Products with our Foam Pouches 
It doesn't matter if you want to store your delicate items or ship a package. The end goal is to keep your items unharmed during the time they are in a package or being stored. Our foam sheets are designed with you in mind, as we understand what it takes to make materials that will protect your precious goods. These sheets are designed to naturally cradle your items and provide them with the best protection possible.
Ideal Size for your Foam Packing Supplies Needs
Sometimes you just want to wrap a tiny item so that it does not get lost among other products in a shipment. Measuring 12″ inch x 12″ inch, we have made it possible to package a variety of items with ease with our foam packing envelopes. Foam sheets are non-abrasive, you will not have to worry about delicate items becoming scratched when wrapped with this material.
Beneficial To Products
Never worry about precious items being stored or shipped when you have enKo polyethylene foam packing envelopes/packaging foam sleeves. Our foam envelopes are designed to cushion your items, as well as protect them from dust and other storage elements. Designed for shock absorption, lessens vibration, provides surface protection, acts as thermal insulation and is resistant to water and other chemicals.