Address Labels

Having commenced operations in Des Moines, Iowa, in 2010, enKo Products has spent the last nine years establishing itself as reliable and accessible player in the business/industrial supply industry. Every company requires a thriving culture to be successful and enKo's company culture has been built on the values of speed, convenience and affordability. As a result, purchasing products such as address labels is nothing short of a satisfactory experience.
Top Supplier of Address Labels
They say speed kills, but in the case of enKo Products, speed saves. This time-saving speed can be found not only in the purchasing process, but more importantly in the delivery process of the products that you purchase, that include but are not limited to address labels. As a matter of fact, shipping is guaranteed within one business day, while delivery is guaranteed within 2 business days, 95% of the time. Potential inhibitors include the courier service, holidays and unforeseen circumstances that may otherwise slow the process.
*Excludes Alaska, Hawaii, and US Protectorates.
Leading Seller of Address Labels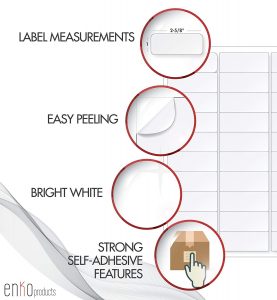 Convenience is not necessarily a necessity, but people will more often than not make decisions based on the option that is the most convenient for them. enKo Products recognizes this and as a result, has made a considered effort to create a website that is as easy and convenient to use, as possible. In order to purchase products such as address labels, all a customer has to do is click on the "shipping & handling labels" tab found on the homepage, followed by the "address labels" link on the "categories" section found on the left side of the webpage. enKo's selection of address labels are then displayed for purchase, ending the process with the final task of adding the specific product to your cart and checking out. These simple steps truly make shopping with enKo Products as easy and convenient as possible.
Perfect Producer of Address Labels

There's no doubting the significance of speed and convenience when it comes to selecting your source for address labels, but there is perhaps no greater decider than affordability. Therefore, enKo Products made a decision from the very beginning, that it would strive to be a far more affordable option than that of its more high-profile competitors. Although enKo's base product prices are already cheaper than most if not all, further value is found in the company's discounts and warranty. Discounts are reserved mainly for members who qualify for free 2nd day shipping, in addition to 20% off of your first order and 10% off of all succeeding orders. As a member you also receive benefits from the rewards program, which converts every dollar spent into a point. One hundred points is equal to one dollar off of whatever purchase you decide to apply it to. Lastly, the warranty ensures customer satisfaction through a 100% money-back, 2-year guarantee.
Check out our address labels on amazon!