Moving on from our review of the best desktop thermal printers for small businesses, we now talk about their mobile versions.
Portable thermal printers are suitable for rapidly expanding businesses. They are generally wireless-enabled and can be powered by a battery for hours. They are used in big stores and warehouses, as well as offices with multiple subunits. They produce labels on demand.
If your workers are tagging different item types, they don't have to walk back and forth to the nearest desktop printer to do so.
Which one is the best unit for your business? Let's find out by probing their similarities and differences.
Our Featured Portable Direct Thermal Printers
TSC Alpha-4L

Wasp WPL4M Series

Seiko MP-A40 Series

Brother RJ4230BL

Zebra ZQ520
What Do These Portable Printers Have in Common?
These gadgets have many similarities, but the most notable ones are the following:
Military-Grade Durability
According to Alex Hollings, the term "military-grade" signifies that a product passed a series of tests that would make it acceptable for US military use. It does not mean that it has been taken to a training ground, much less a battlefield, and abused endlessly.
When applied to the concept of durability, a military-grade device can tolerate various potentially damaging elements. They include hard impact, exposure to harsh solvents, vibrations, changing weather conditions, etc. All the printers featured in this blog are shock-proof and can endure rough handling.
Wireless Connectivity
The gadgets discussed here are all wireless-enabled, so they can print label templates coming from various sources, such as a tablet or a WLAN-connected PC. Therefore, they can easily accommodate printing jobs from different users.
Battery-Powered
Having a battery option, combined with wireless connectivity, makes these printers mobile-ready. Your staff can take the gadget with them anywhere inside your facility and create labels wherever they are. The benefit of this is that they can see the items needing labels, helping ensure printing accuracy.
These machines are also suitable for delivery services, as they can be mounted and charged inside vehicles.
They Can All Print Shipping Labels
All of the mobile printers here have a maximum print width of at least 4″, so they can print direct thermal labels of various sizes, including shipping labels. Printing flexibility and portability make them more versatile than desktop or industrial thermal printers.
Can Print on Linerless Media
These portable thermal printers can be used anywhere in your facility, including the point of sale. They can process linerless media, making them suitable for printing receipts.
Maximum Resolution
All these machines have a maximum resolution of 203 dpi, which can take care of most business labeling needs.
Now that you've seen their similarities, how will you know which one is perfect for your establishment? Let's examine some of their differences.
What are the Differences Between these Portable Printers?
Below are the distinct characteristics of the best mobile thermal printers sold in the market today. 
The Alpha-4L is the only portable wide-printer that TSC currently offers. Its default wireless interface is Bluetooth, whereas other wireless functions are optional. It accepts both USB and the more secure RS232 cables, so it can connect to PCs using both. The unit is compatible with many operating systems.
Of the five gadgets featured in this blog, the Alpha-4L has the highest media capacity at 2.65″. For the same printing requirements, it would take longer to reload this machine compared to the others. Its 16-MB flash memory can be expanded to 4GB as it has a microSD card reader.
On the other hand, the Alpha-4L is one of the slower printers in this group, as it has a maximum print speed of 4 ips. Additionally, TSC tech support is not particularly known for friendliness.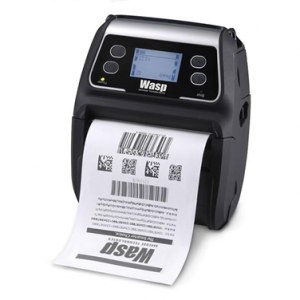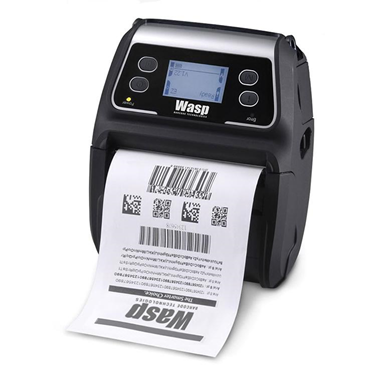 The WPL4M models are very similar in structure and function to the TSC Alpha-4L. They have the same dimensions, print speed, drop tolerance and memory. WPL4M printers, however, are compatible with fewer operating systems.
The series has two models, the WPL4MB (MB) and WPL4ML (ML), which differ in terms of wireless interface. The MB uses Bluetooth technology, which has a short range. The ML has wifi, which has a wider reach than Bluetooth. Both have a maximum media capacity of 2.6″.
The WPL4M printers are the priciest units in this group. The fact that one gets fewer connectivity options from each model also makes this series the least cost-effective. Wasp tech support is also disappointing for some customers.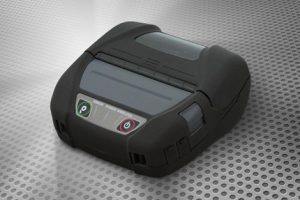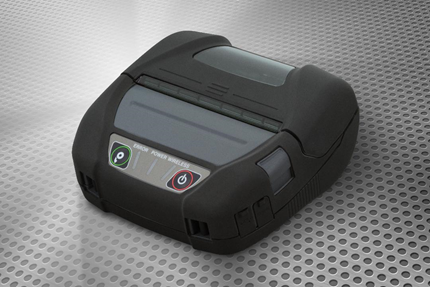 The MP-A40 printers are the most compact machines in this group. Like the WPL4M models, MP-A40 units differ based on the wireless option they carry. The MP-A40-B06JK1 (B) has Bluetooth, whereas the MP-A40-W06JK1 (W) has WLAN. Both devices are compatible with Windows, iOS and Android.
The MP-A40 units have a drop-in reload function and large buttons, which are convenient in industrial settings. Their drop tolerance is 6.6 feet, which is higher than that of the Alpha-4L or WPL4M models. Seiko also has good customer care.
Despite these, however, MP-A40 printers are overly minimalistic compared to the other gadgets in this group. Both lack an LCD and have limited standard memory at 3.9 KB. Media capacity is only 2.28 inches, and their maximum print speed is 4 ips.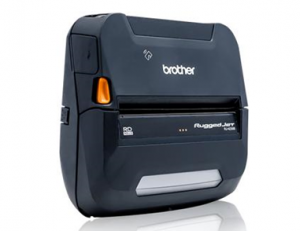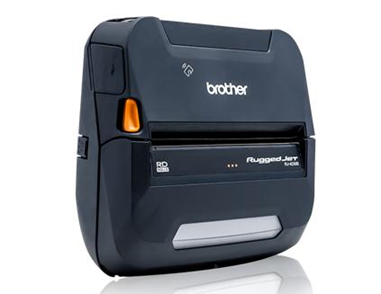 This Brother RuggedJet printer offers some of the coolest features. Not only does it have wide hardware connectivity, but it can also print directly from Apple devices even without a driver. The RJ4230BL prints slightly faster at 5 ips and has a double-sided tear bar. It has a drop-in feature, like other Brother direct thermal printers. It has the tallest drop tolerance at 6.9 feet.
The unit has minor setbacks, which include the use of proprietary labels and having small control buttons. Additionally, Brother has weak tech support. As we mentioned in our blog, 2020's Best Brother Thermal Printers for Small Businesses, the Brother USA website is not very user-friendly either.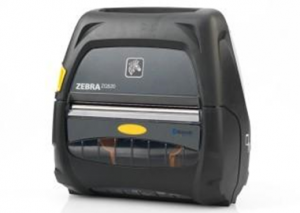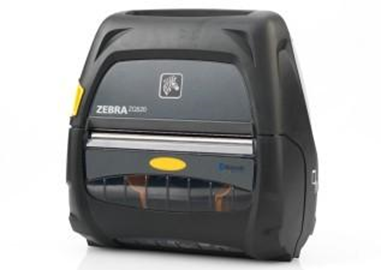 Finally, we have the ZQ520. Among the printers featured here, it has the most flexible software and hardware connectivity. This is because it has Link-OS, which we talked about in our blog 2020's Best Zebra Label Printers for Small Businesses.
On its own, the ZQ520 has a drop tolerance of 6.6 feet. With its exoskeleton, this height increases to 10 feet. 
Other convenient features include big control buttons and a unique battery-conserving mode. Like the Brother RJ4230BL, the ZQ520 also has a double-sided tear bar. Customer care is not a problem with Zebra.
This unit's only setback is that its driver installation is not straightforward, unlike in the RJ4230BL. However, once you get the ZQ520 set up, it will easily blend into your system. Link-OS is backwards-compatible and was designed to integrate a large network of computers and printers.
Here is a table summarizing the comparable features of these portable thermal printers:
 

Zebra ZQ520

Brother RJ4230BL

Seiko MP-A40

Wasp WPL4M Series

TSC Alpha-4L

Dimensions (inches)

6.2 x 6.1 x 2.6

6.02 x 6.26 x 2.68

6.14 x 5.98 x 2.80

7.54 x 6.30 x 3.11

7.54 x 6.30 x 3.11

Weight (lbs)

1.73

1.87

1.68

2.43

2.43

Compatible OS

Link-OS

Windows, iOS, Android

Windows, iOS, Android

Windows, Mac, iOS, Android

SAP, Oracle, WHQL 8.1, Windows, Microsoft SQL server, BarTender, Nice Label, Linux, MAC X.10, MFi

Interface

Wide connectivity

Wide connectivity

Default USB; models have either a Bluetooth (B) or WLAN function (W)

Default USB and RS232; models have either a Bluetooth (MB) or wifi function (ML)

Default USB, RS232 and Bluetooth; other wireless functions are optional

Driver necessary for setup?

Yes

No

Yes

Yes

Yes

Memory

Flash: 512 MB

Flash: 64 MB

Standard: 3.9 KB

16 MB flash memory, can be expanded to 4GB by microSD card

16 MB flash memory, can be expanded to 4GB by microSD card

Maximum Resolution (dpi)

203

203

203

203

203

Maximum Print Speed (inches per second)

5

5

4

4

4

Has large control buttons?

Yes

No

Yes

No

No

Drop tolerance (feet)

Without its exoskeleton: 6.6




With its exoskeleton:

10

6.9

6.6

6

6

Is technical support reliable?

Yes

Not really

Yes

Not really

Not really

Uses generic labels?

Yes

No

Yes

Yes

Yes

Font Color

Monochrome Black

Monochrome Black

Monochrome Black

Monochrome Black

Monochrome Black

Warranty (years)

1

2

1

2

2

Average Price

$700 – 900

(with battery)

$945

B: $650-700

W: $700-750

MB Model: $895

ML Model: $995

$720 – 830
We just talked about the five best portable direct thermal printers available in the market today. If your establishment is a fast-growing one, you might consider buying one of these gadgets. Now that you've seen what each of them has to offer, we hope that we have helped you choose the device that best suits your business needs.
Print Fast and Inexpensively with enKo Products
Whatever mobile printer you end up buying, we can help you make the most of it. At enKo Products, we offer the following low-cost yet high-quality and versatile labels:
Buy enKo Products today and grab a bunch of cool discounts!