How Startups Can Create Professional-Looking Shipping Labels
In our blog, Benefits of Printing Postage Online, we highlighted the advantages that online postage can give small businesses. Printing your own postage labels can save you money, speed up your mailing and shipping tasks and help your establishment in other ways. In this blog, we'll show you the correct and easy ways on how to create shipping labels. 
Why Do Small Businesses Need A Shipping Label?
Shipping labels are vital to business due to the following reasons:
Your Shipping Label Bears Important Details about You and the Recipient
Your postage sticker indicates your parcel's destination, which ensures that it reaches your customer. It also has your address in case a return is necessary. 
The Shipping Label Shows the Service Type Used
Your package's postage tag bears proof of the kind of service that you used to send it. This lets the carrier's employees know how fast they should process and deliver the parcel. It also shows customers that you used the shipping service that they specified and paid for.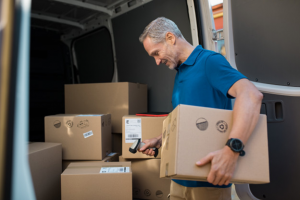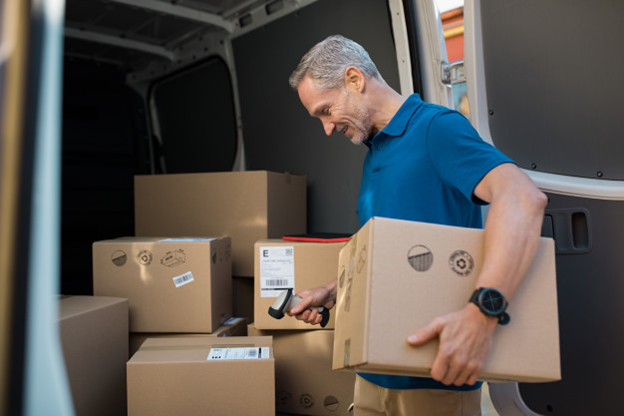 Computer-Printed Shipping Labels Maintain Your Parcel's Professional Look
Shipping addresses can be handwritten or printed on the computer. But computerized labels look neater and can be reproduced without your hand tiring out. Expertly done tags are part of your packaging. They preserve its professional appearance even as it goes through rugged transport conditions. 
Shipping Labels Can Help You Promote Your Brand
There is at least one area on your postage sticker where you can print your business logo or slogan. Such a tool helps promote your brand and encourage repeat purchases. Its location will depend on your carrier's label template.
They Help You Stay Compliant with USPS Regulations  
USPS requires small businesses to include the IMpb barcode on the shipping label. This tool enhances the parcel's traceability and ensures that registered small business owners are given postage discounts. The IMpb barcode can be obtained from the office, but aside from spending on travel, it will be given to you at the retail price. However, getting it online will knock off your fuel expenses, and hefty discounts will reduce your postage costs.
Printing shipping labels can be confusing if you just decided to do it on your own for the first time. Be consoled, however, because it should get better in a jiffy. Most online postage apps are easy to learn and user-friendly. 
What Information is On a Shipping Label?
The information below applies to a standard USPS shipping label. Other carriers have pretty much the same data on their label templates but are just formatted differently.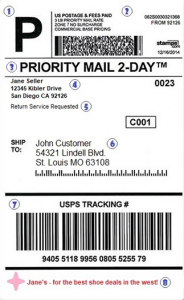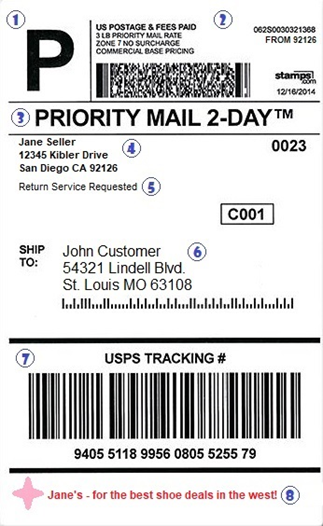 Service icon
This is the symbol for the service type used. The service icon can be one of the following:
P – Signifies priority mail. The maximum parcel weight is 70 lbs. and it can reach a US recipient in one to three days.
F – Indicates first-class mail. The maximum shipment weight is 15.99 lbs. and arrival is within one to three days.
E – Symbolizes priority mail express. The package may arrive overnight or in one to two days. 

– A solid block signifies the use of package services, which include parcel select, media mail, bound printed matter, library mail and retail ground. What are the differences between them?
Parcel select – A ground delivery service used by medium- and large-sized shippers. The parcel reaches a US recipient in 2-8 days. 
Media mail – This service is suitable for sending informational media like books, DVDs, CDs, videotapes, etc. They may reach a US recipient in 2-10 days.
Bound printed matter – The service is for sending large volumes of printed material that may be bound by staples, stitches, glue, etc. The parcel may reach a US recipient in 7-10 business days but can take three weeks.
Library mail – It is a bulk mailing service used by research institutions, libraries, etc. The shipment reaches a US recipient in 7-10 days.
Retail ground – This service is for non-urgent single-piece mail, which may reach a US customer in 2-9 days. However, it may sometimes take 14 business days, depending on the season.

– An empty block implies critical mail, a flat-rate delivery class for secure documents such as tickets, gift cards, etc. USPS discontinued this service in 2016.  
Proof of postage payment
This area bears payment information, shipping date, parcel weight and shipping zone. It will indicate whether you paid postage at the post office or online.
The post office uses either metered postage or stamps. Online postage is evident when you see a smart code with the service provider's logo beside it. This sample label was prepared using Stamps.com.
Take note of the shipping date indicated here. It is the date on which your carrier shall collect your package. If you're sending similar packages routinely, you may want to prepare some of your labels ahead of time and postdate them.
Service banner
This portion spells out the service type and subclass you used. In this example, the two-day priority mail subclass is indicated.  
Sender's name and address
This information is necessary in case the package is returned. It is printed less prominently than the recipient's information. It may indicate your store's address or that of your 3PL provider.
Ancillary service endorsements
This portion has information about some specific services requested, particularly, address service, change service and return service. In this example, return service is indicated, which corrects the recipient's address and may reroute the mail back to the sender when it is undeliverable. 
Recipient's name and address
This portion indicates the parcel's destination and is more prominent than the return address. 
IMpb barcode
This has USPS' regulatory barcode in it. We have earlier explained its significance.
Area for additional information or customization
This portion has information that is not vital to the shipment service. You may customize it by putting your business logo or slogan, as in this example. Other shippers may allow customization in another part of the label.
Now that you're familiar with your shipping label's anatomy, you should be able to print one with ease.
What Are the Standard Shipping Label Sizes?
When you're printing postage online, the standard label sizes that you're allowed to use are 4″ x 6″ (the "4 x 6") and  5.5″ x 8.5″ (the "half-sheet"). Rarely, a 4″ x 5″ or 4″ x 4″ is used, but they are not widely accepted.
Both the 4 x 6 and the half-sheet are appropriate for the following purposes:
Domestic shipments to private recipients

International shipments

to private recipients

APO, FPO and DPO shipments for mail or care packages sent to the army, navy, and US embassies, respectively. Mail to these destinations can only be sent through USPS. The shipping label is landscape-oriented, so a reconfigured 4 x 6 or a half-sheet may be used.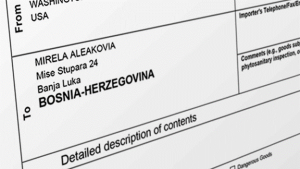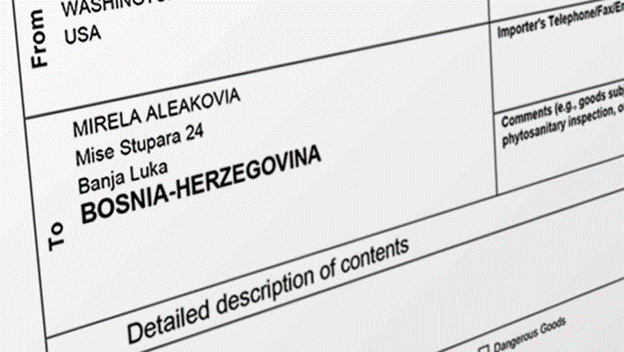 The most important label size is the 4 x 6 because it is the most widely accepted by online mailing platforms. It is also big enough to contain all pertinent postage information, including the IMpb barcode.
What Printers Can I Use For My Shipping Labels?
Because of the standard shipping label sizes, printers must have a print width of 4″ or wider. They can be any of the following: 
Any Inkjet Printer
You can use any inkjet printer as such machines can process sheet labels. However, printer ink is quite pricey and smudges easily on contact with moisture. Using these printers risks losing your shipping label's scannability.
Any Laser Printer
If you have a laser printer instead, you can print your shipping labels with that, too. However, toner is also expensive. Routine labeling with a laser printer may hurt your budget eventually if you're already shipping dozens of packages daily.
A Direct Thermal Printer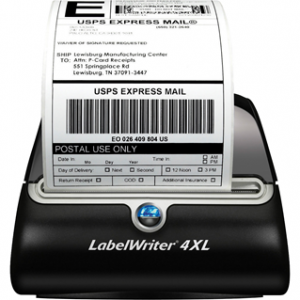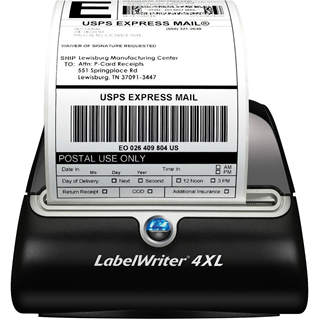 Direct thermal printers are business owners' gadgets of choice for making shipping labels. They produce smudge-proof images. They do not use ink, but instead, the special paper they use changes color on contact with their heated print heads. You might find them cost-effective and efficient if you're shipping dozens or hundreds of parcels daily.
If you intend to use this technology, know that not all direct thermal printers can produce the standard shipping label. This is because many of them have print widths less than 4″, and such printers are used for other functions like price tagging, product labeling, retail barcoding, etc.
Additionally, you would need one that is accepted by your preferred carrier's website. American brands like Zebra and Dymo are compatible with most online postage sites in the US.
In terms of printer resolution, 203 dpi is enough for making barcodes and QR codes, including those used in shipping labels. Crisper prints are usually not necessary unless they have a special purpose.
For example, a resolution of 300 dpi is good for intricate business logos. A 600-dpi resolution is used mostly for tiny prints found in healthcare specimen vials. Higher-resolution machines are not only unnecessary for retailing and most other industries, but they are also relatively slower and more expensive.
Direct thermal printers may sometimes print lightly, but you can adjust your computer or mobile device settings to make them print darker images. 
Where On the Package Should I Place My Shipping Label? 
After printing your postage sticker, you can attach it on any of your parcel's prominent surfaces. Just make sure not to bend the label around edges or render any of its parts illegible. It is important to keep your shipping label readable to logistics personnel and scanners at all times.
Other Important Tips to Keep in Mind
Aside from the above guide, you may want to take note of the following:
Make Sure to Double-Check Pertinent Mailing Information
When you log on to your online postage account and prepare your shipping label, you will be asked to provide the following information:
The recipient's address

Your return address

The parcel's weight and declared value

Your preferred postage class

Additional services that you want

Your payment information
Review all these before printing your label to ensure their accuracy and prevent waste.
Save Your Postage Sticker in PDF Form Just in Case
When you're about to print your label, you can choose to do so immediately or save it in a PDF file first. You may want to do the latter just in case you encounter any troubles during printing. 
Each Carrier Has Unique Policies on Using Labels for Special Handling
Suppose the parcel needs special handling, e. g. when it is fragile or flammable, your carrier may allow you to use additional labels to alert personnel. You can check your service provider's website to see where you can place yours.
You May Cover Your Shipping Labels
Some choose to leave their shipping labels bare to ensure visibility, and that is okay. However, others put plastic tape or stick a cellophane cover on top to keep them from getting damaged during transport. You can protect your shipping labels as long as the cover does not compromise readability.
Ship on Your Shipping Date
Make sure to schedule your pickup date on the day that you indicated on your shipping label. Failure to do so may trigger confusion and delays during transport, which will not make your customers happy. 
It Is Best to Use White Labels and Print in Black
You may be tempted to print in color when using a multicolor printer, or even use colored labels. You are free to print your logo or slogan in color as it is not critical to shipment information, but your label should always be white. Pertinent mailing information is best printed in black on a white background to optimize contrast and ensure scannability.
You May Write Your Shipping Labels by Hand, But…
You are allowed to write your shipping labels by hand if you run out of the right-size ones. Other sizes will just not be compatible, and using them may only lead to printing errors and waste. However, if you write your postage stickers by hand, you will be missing out on the cost- and time-saving features of printing your own shipping labels. 
A Packing Slip is Optional, But it is Also Good for Marketing
You may include a packing slip or a "waybill" in your parcel. Online postage providers have templates on their websites that you can fill out and print. The waybill may contain your customer's order information, a receipt, parts checklist, etc. You can secure it anywhere beside your shipping label using a plastic covering.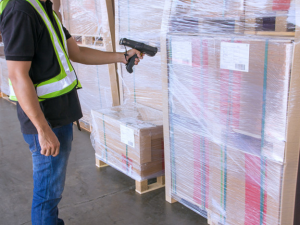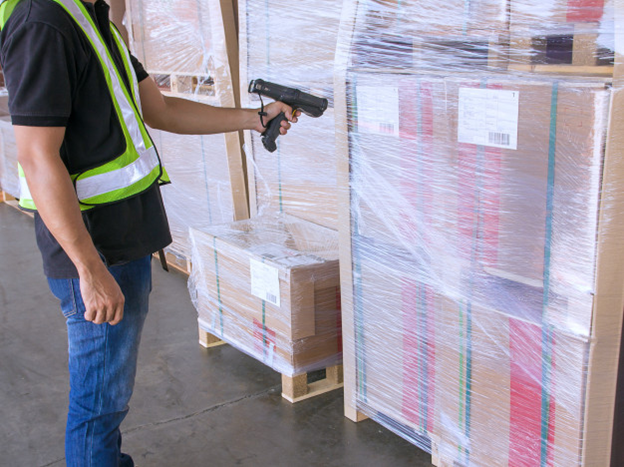 Conclusion
Creating shipping labels is part of the nitty-gritty of business, and so printing them correctly is crucial. By following the above guide, you may find that making your own postage stickers is easy. Doing so also allows you to reduce waste, increase your productivity and personally ensure your goods' timely delivery.
Enjoy Big Savings by Buying enKo Products!
At enKo Products, we help small businesses make inexpensive but quality customized packaging. We offer the following premium-grade materials at very low prices: 
Buy your favorite enKo Products now and save money on the best deals in packaging and labeling materials!