10 Easy Ways to Maintain Your Direct Thermal Printer
Direct thermal printers speed up your labeling tasks, but they are also very costly machines. Whether you're using a lower-priced Rollo printer or a high-end Sato labeler, your unit can frequently malfunction if it's not properly maintained.
Good maintenance ensures years of problem-free performance for your device. This is less expensive than if you were to replace parts or units frequently. In this blog, we shall explore 10 easy, expert-recommended ways to maintain your direct thermal printer.
The Benefits of Good Direct Thermal Printer Maintenance
When your equipment is well-maintained, it brings you the following advantages:
Proper Maintenance Minimizes Logjams and Other Printer Errors
Static electricity, adhesive snippets, dirt, dust and many other particles can build up without regular cleaning. They may jam the equipment, deform the rollers, blur the sensors, etc. which can mess up the unit's performance and reduce its endurance. Additionally, excessively dark prints, suboptimal working conditions, contamination, etc. can damage the print heads.
Regular care lessens these problems' occurrence so you can continue to make professional-looking labels effortlessly.
Good Equipment Care Ensures Task Continuity
Repairs and replacements require recalibration, re-automation and driver installation. Good maintenance minimizes job interruptions by reducing the need for these tasks, guaranteeing productivity and availability of neat labels on demand.
Well-Maintained Units Consistently Make High-Quality Prints
Intact print heads and properly functioning media guides are crucial to high-quality labeling. Good equipment care preserves the printer's excellent performance.
Regular Care of Direct Thermal Printers Reduces Your Labeling Costs in the Long Run
Badly printed barcodes can harm your business, while frequent logjams and machine breakdowns waste your resources. By minimizing paper jams, preserving the print heads, and maintaining overall function, you get your money's worth and more from your equipment. 
Maintenance Ensures Your Equipment's Longevity
Proper care protects the print heads' structures, as well as those of other moving parts. It assures good mechanical function for a very long time.
These magnified print head images taken by Zebra illustrate the tangible effects of regular equipment maintenance. Good upkeep preserves the print heads' form even after long-term use. Poor care wears them out easily.
The Easy Ways to Maintain Your Direct Thermal Printer
Good maintenance actually starts before you buy your unit. Then it gets easier from there. Below are the easiest and best ways to maintain your direct thermal printer.
1. Choose the Right Printer for Your Needs
In our blog, 2020's Best Direct Thermal Printers for Small Businesses, we emphasized the importance of choosing equipment that would best suit your labeling requirements. Printer types vary according to the working environment wherein they'll be used and the labeling load.
Buying an inappropriate model may lead to high unexpected costs, so it is best to get a gadget that is just right for your needs.
When you've finally made your purchase, check out any special instructions and kits for your unit's proper cleaning and maintenance.
2. Avail of Regular Maintenance Services
The manufacturer may offer a discounted regular maintenance plan, which you may want to take advantage of. Schedules and rates differ with every model and manufacturer. Regular maintenance helps you preempt damage that may halt your operations and harm your business.
3. Place Your Equipment in the Appropriate Working Environment
When you're buying a direct thermal printer, check its environmental requirements and make sure that the designated machine location meets them. The manual normally specifies those environmental conditions. They include the printer's operational temperature, humidity levels, charging temperature, electrical specs, storage temperature, etc.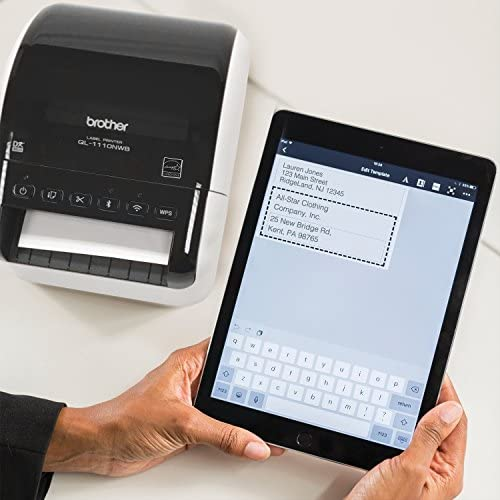 4. Clean Your Direct Thermal Printer Regularly
Again, if you're clueless about cleaning direct thermal printers and it's your first time to do it, you may check out your machine's manual for directions. For most units, however, the cleaning guide below will suffice:
Turn off your unit before cleaning. While some manufacturers do not require it, it lessens the risk of electrocution when your hands are wet with cleaning solutions. 

Dust is easier to remove when dry. Dust off the machine's housing using a soft, dry brush. After that, dampen a linen cloth with rubbing alcohol and finish cleaning the exterior by wiping it down. Dry before replacing.

For the internal parts, one way of cleaning them is by using alcohol-dampened Q-tips. Swab the printer heads clean using as little pressure as possible. Do the same to the rollers. If your unit has 600-dpi printer heads, they require a special cleaning film moistened with 99.7% isopropyl alcohol. These may come with the unit's cleaning kit or be bought separately.

You may also use cleaning pens for the printer heads and rollers, moving them from side to side. Avoid using the same cleaning pen if it already has significant dust buildup.

Rough cleaning cards may also be used for the printer heads, which we recommend if you're using a dual-function thermal printer. They remove dust, dirt and ribbon ink effectively. Place one sheet manually inside the label feed then pull it out.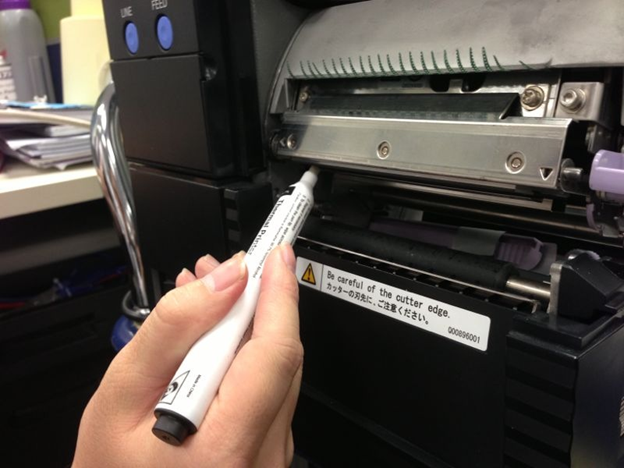 How Often Must I Clean My Direct Thermal Printer?
That would depend on your work environment and labeling load. In small offices, where there's less dust flying around, you may do it at least once a week or every two roll changes. On the other hand, a dirty industrial site requires daily cleaning of the machine, as it predisposes the printer heads to heavy contamination.
If you need to use cleaning cards, do so only twice a month as they are abrasive and can damage the printer heads. 
5. Avoid Printing in a Darker Shade than Necessary 
Direct thermal printers use heating elements that have a finite life. Very dark prints require heating the print heads beyond their normal operating temperature. Frequent overexposure reduces their life span and should thus be avoided.
If you need to darken your label, check out your printer settings. Light prints may be due to the image's original colors, light grayscale settings and other printer qualities. You can adjust these parameters for every project, but do not touch the print head settings themselves.
6. Make Sure that Your Equipment's Battery is at Full Power
If you're using your printer's battery, check to see if it is fully charged before use. Battery performance affects print quality, and a weak one may prompt you to adjust the print head settings just to darken your labels.
Make sure that your gadget's battery is fully charged every time or that it is not worn out. Replace it if necessary.
7. Optimize Media Guide Positioning
Misfed labels are also damaging to the print heads and rollers. Poor positioning can cause labels to bunch up, scratch the print heads and rollers and damage the unit. Always ensure that your labels are well-positioned so that they touch the printing surfaces properly.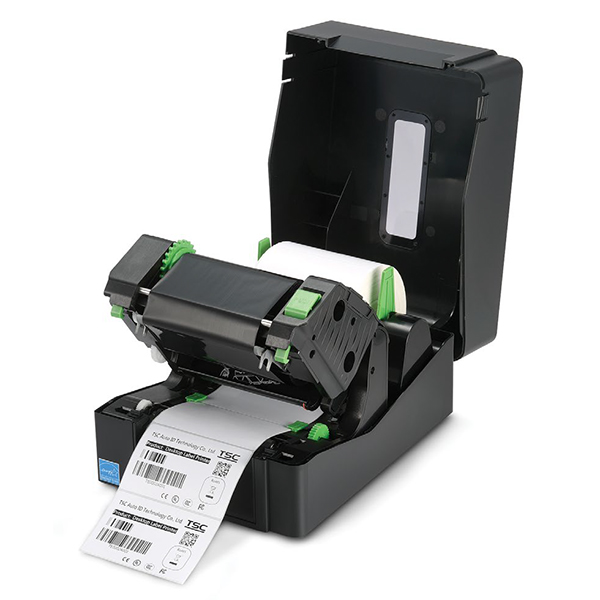 8. Prevent Damage from Electrostatic Discharge
Static electricity can build up any time in the workplace, and we may not be aware of it. It can cause a sudden spark, a form of "electrostatic discharge" or ESD.
Electric charges can accumulate on synthetic clothes, plastic beverage cups, large metallic equipment, etc. As we pointed out in our blog, Continuous Media: Are Fanfold Labels Better than Roll Labels?, static electricity can damage your unit's print head.
Here are some time-tested ways to prevent static buildup:
Use an anti-static wrist strap when troubleshooting or cleaning your direct thermal printer. You can buy good ones from

Amazon

for about $10.

Avoid placing synthetic materials like Styrofoam and plastic near the equipment.

Wear

ESD footwear

if you and your staff are fond of putting on clothes made of synthetic fabric. ESD footwear has a piece of conductive material that transmits some of the electric charges to the ground, preventing static buildup. If it is impractical to ask everyone to wear such shoes, you can try coating your floor with anti-static material such as conductive rubber.

Keep the machine away from areas where the air is rapidly moving. Likewise, keep your printer far from equipment that causes a lot of air movement, like circulating fans and tools running on compressed air.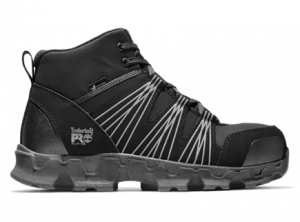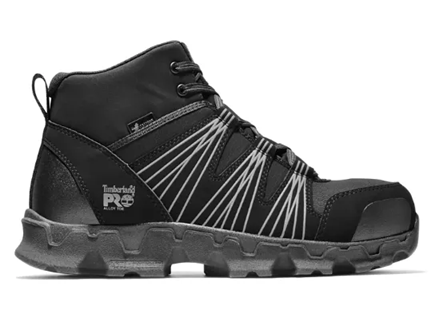 This Timberland boot is an example of anti-static footwear.
9. Update Your Printer's Software in a Timely Fashion
New software helps maximize your printer's function. The process may or may not be automatic. If it is not, you may check the manufacturer's website periodically for updates.
10. Promptly Replace Print Heads with Original Parts
Poor print quality may result from worn-out print heads. Promptly replace yours with original parts to prevent breaks in your business operations.
Following this simple guide can help you keep your direct thermal printer in excellent shape for many years.
Regular maintenance is essential to any equipment's proper functioning. Your direct thermal printer certainly needs that pampering so it can serve you for a very long time. Poorly maintained printers distort label images, whereas good preventive care helps the machine consistently create perfect tags. A well-maintained printer helps you optimize savings and benefits your business in other ways.
Let enKo Products Help You Optimize Thermal Printing Technology's Benefits
enKo Products helps American entrepreneurs boost their savings. We do this by supplying them with low-priced quality labels and shipping materials like:
Shop at our website today and be amazed at how your earnings can quickly ramp up!