In our blog, Organizing the Office by Effectively Using Labels, we pointed out that the workspace was our control station, and a messy office could reduce our productivity.
If you work from home, where children and pets run about, disorderliness is almost always a certainty.
The holiday season is a busy time for business owners as shopping activities peak and parties take place right and left. Clutter accumulates fast, so it's easy for one's workspace to get disorganized. Here, we talk about chaos-proofing your home office for Christmas.
Which Parts of the Home Office Must I Pay Attention to?
The things that typically belong to a home office are listed below.
Differentiate business from personal documents. These include receipts, contracts, invoices, memos, employee files, medical files, identification, insurance, bank documents, travel documents, etc.
They include writing tools, paper, staplers, paper clips, etc. Sharp objects, like cutters and scissors, must be kept out of children's reach.
Separate the ones absolutely needed for business from those that are not. Home office equipment includes the PC, zip drive, lamps, desktop barcode printers, paper holders, heat shrink guns, glue guns, label holders, etc.
Sort your mail into two piles, outgoing and incoming. 
As in postal letters, separate outgoing from incoming packages.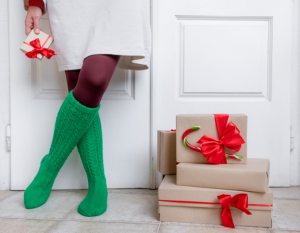 Keep packaging supplies in one place to make them easy to find. They include shipping labels, freezer labels, stretch wrap, shrink wrap, bubble wrap, newsprint paper, packing foam, fragile stickers, sealing tapes, etc.
These include photos, purses, medications, etc. It's better to keep them all in a place where they can't distract you.
These are mainly power cords and electronic connections. People can trip over them if they're left in the middle of the floor. Their entanglement can also make it hard for you to finish some tasks. Imagine needing to use your Dymo printer quickly, but you can't because it's hard to tell its cord apart from that of your inkjet.
Learning tools and source documents
These include books and other media, e. g. Pantone color guidebooks, which you may use as references while working.
No one's supposed to be a Scrooge this season, entrepreneurs least of all. No matter what your beliefs are, the holidays are a time to show that spirit of generosity. Putting on yuletide decors is one way of sharing that with your community. Additionally, holiday ornaments make shops and offices look hospitable and inviting, so business owners worldwide put them on regardless of their denomination.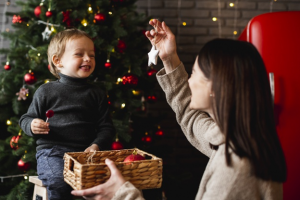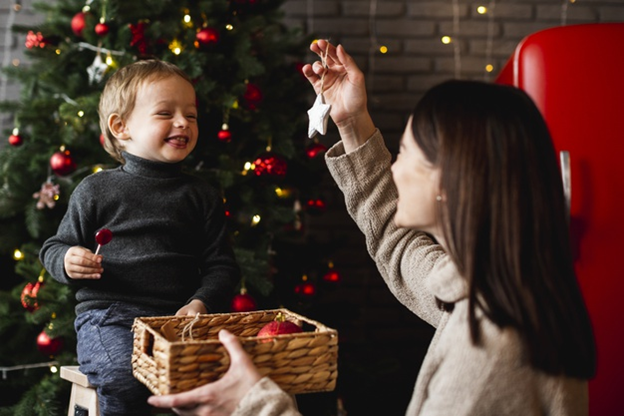 Business owners may choose to send little tokens of appreciation to their customers around this time. If you've been someone's loyal client, you're probably getting some of your own, too. Then you also have to deal with those gifts for and from family and friends.
Guess what? They can all clutter your home office, too.
Many people put art on their walls, nothing but. Others, however, use them for business as well. They choose to put on calendars, periodic tables, racks, maps and other tools that aid productivity. But these also need to be organized.
Cash, jewelry, credit and debit cards, checkbooks, login credentials, etc. should not be left lying around because of the rise in property crimes. Like we mentioned in our blog, 10 Actionable Ways for Small Businesses to Protect Customers from Porch Piracy, theft picks up around the holidays. So lock up your valuables extra tight at this time.
Trash segregation is not a new concept. So this needs to be included in your office organization goals, too.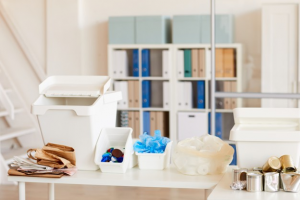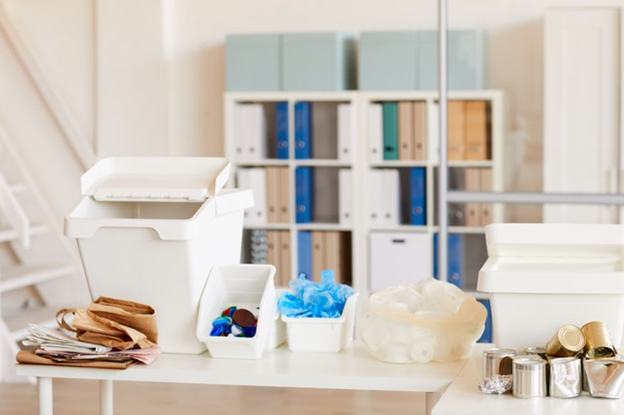 You can make a checklist of your own if this does not entirely cover all the noteworthy items in your home office.
What Can I Do To Organize My Home Office for the Holidays?
The above list was written to help you determine what you need to organize inside your home office, but the real work begins right here.
Holiday Home Office Organization Tip #1: Declutter and Survey Your Belongings
Go through your old files and equipment and keep only the absolute work-from-home musts. Don't hold on to things that have no relevance to you moving forward, like obsolete planners and years-old lottery tickets.
Consider putting some of your old transaction records in a computer file and making backup copies.
Go through your trash. Figure out what needs recycling or disposing of. Purge without hesitation.
Holiday Home Office Organization Tip #2: Plan Your Workspace
Once you've separated the essentials from the non-essentials, make a plan for where you'll put them. It helps to draw up a priority list, saving your desk for your most work-relevant belongings. You may arrange the others in order of decreasing importance.
How many drawers does your desk have? Organize some office supplies in them. Make sure to include only the ones you use heavily while working, like pens, paper sheets, staplers, clips, rulers, sticky pads, etc. The desktop must be saved for your PC, mouse and zip drive only, unless it's big enough to accommodate printers as well. If it has room just for your PC, place your printer stand right next to it.
After the work desk, your next priority should be your quick reference guides, business files, personal documents and backup supplies. Your trash bins should be a few meters away.
Designate an area close to the door as your mail sending and receiving station. This can help expedite and organize mailing tasks.
Holiday Home Office Organization Tip #3: Label and Color-Code
Decluttering lets you identify important business tools and separate them from others. Having surveyed all your things and planned your workspace, you should now be ready to create Christmas-spirited labeling and color-coding systems.
Use Brother labels for transient items, such as outgoing mail and parcels, office giveaways, Christmas party souvenirs and stuff in the trash bins. For more lingering articles like reading materials and file folders, you may use appropriately-sized sheet labels.
For your color-coding scheme, you may base it according to function. Color-code boxes, folders, pouches and other containers. Some suggested categories are:
Medical—for your personal, family and pet records. Put them all in one folder and tuck them in a place where they can be safe but readily retrieved during emergencies.
Business—this refers to office papers, equipment, supplies and anything else you use at work. You may have multiple subcategories here, so you may need several colors in this group alone.
Travel—this includes passports, travel tickets, itineraries, etc.
Educational—this pertains to books, CDs, handouts and other materials you use as guides at work.
Financial and property—this includes passbooks, checkbooks, account statements, deeds of sale, insurance plans, mortgage papers, etc. Converting some of these documents to electronic files can save you a lot of space. But if you choose to keep printed records, you'll need to include them in your labeling and color-coding strategies, too.
Social—this pertains to items you may use at yuletide gatherings, such as guest lists, invitations, programs, gift cards, etc.
Trash—this is where all the unusable clutter goes. Identify recyclable items as much as you can. You can either keep them or sell them to the nearest recycling plant.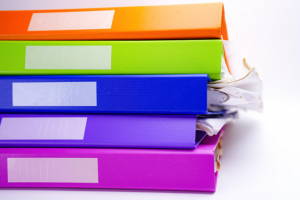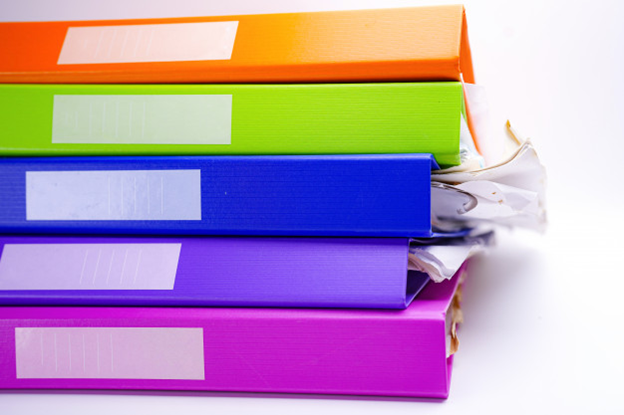 Colors have various meanings for different people, so feel free to assign whatever color you want to these categories. Any scheme is fine as long as it helps you organize your home office efficiently.
Holiday Home Office Organization Tip #4: Separate Business from Personal Property
Business and personal assets tend to look identical, so it's easy to lose half an hour looking for one item in a mixed pile. Keeping them separate will spare you from that hassle. Put all business-relevant items as close to your work desk as possible. Save some shelf space for your personal articles, keeping them at a distance where they cannot divert you from your tasks.
Holiday Home Office Organization Tip #5: Create a Space for Your Guests
Your home office has to be hospitable to guests, but you don't need their things mixing with yours. Save a separate shelf where they can put their belongings when they come to visit you. This makes retrieval easy before they leave. Additionally, preventing mix-ups also keeps your guests from mistakenly picking up your stuff and vice versa.
Holiday Home Office Organization Tip #6: Segregate between Shared and Unshared Items 
If you're sharing some things with the rest of your household, provide a separate area for those, too. Label those items to eliminate the guesswork for your family members. By doing these, you can keep them from ruining your organization scheme when they rummage through your home office.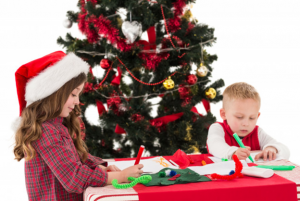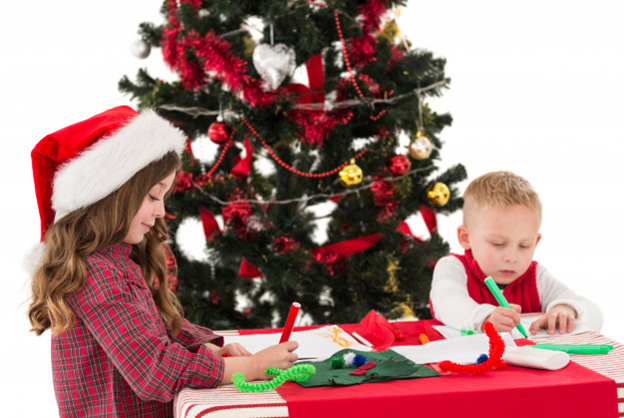 Holiday Home Office Organization Tip #7: Put Christmas Décor in Strategic Places
As previously mentioned, having a few yuletide ornaments can make your workspace look inviting to Christmas-struck clients. They may be as simple as winter-style candy dishes, poinsettia vases and doorstep mistletoe. If you're holiday-crazed yourself, knock yourself out and go for that tree.
However, you don't want those embellishments mixing with your office mainstays. So put them in places where you can easily remove them after the holidays, such as the exits, outer areas of your desk, etc.
Holiday Home Office Organization Tip #8: Consider Your Wall Space's Potential
We understand that some of you love collecting those Starbucks planners. We love them, too, but they can bulk up our bags, clutter our desks or disappear just when we badly need them. Worse, some of us don't even have the heart to actually write on them. They often just end up as mere collector's items.
Bottomline, you're less likely to use a handheld planner for actual scheduling than a wall calendar. So it may be high time to get one of the latter. Wall calendars are nifty scheduling tools. And as long as you keep them close to your home office desk, they can also be very useful appointment reminders. If you're the stylish type, artsy calendars can perk up your home office wall while making it functional.
Additionally, if you have limited floor space, you can convert your wall into an extra storage site. Inexpensive wall racks and organizers are widely available, but you can also make some of your own if you prefer.
Holiday Home Office Organization Tip #9: Hide the Wires
The typical American home office has all sorts of appliances and electronic equipment. And it's easy for their cords to get entangled and muddle an otherwise tidy workstation. Needless to say that those wires are potential electrocution hazards for one's family.
Sort out any home office cable jungles, label them and put them in an area where they can't cause accidents. Doing these will not only make your home office safer, it will also make it neater.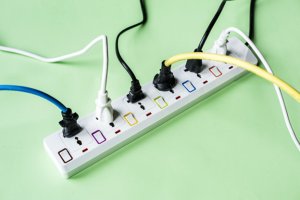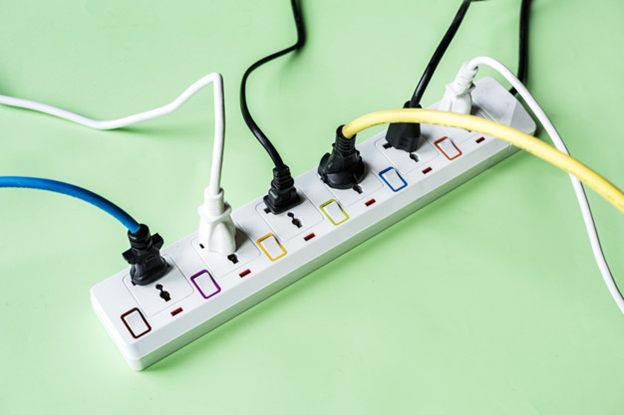 Holiday Home Office Organization Tip #10: Keep Cash and Other Valuables Safe
Lastly, find a nook where you can securely stash your valuables. If you don't have a safe, keeping them close to your workspace is best, so they'll be easy to keep an eye on. You can color-code your valuables but not necessarily label them so as not to give away their identity. Keep them locked away, hidden from others' sight.
Conclusion
Disorganization of one's workspace is known to reduce productivity, and it happens a lot during an especially busy period like the holidays. Staying on top of the situation ensures that you remain efficient at this time. Hopefully, with our tips here, you can keep your home office organized, accident-free and welcoming at the same time. That way, you can continue to do business smoothly through such a joyous occasion.
Happy holidays!