This isn't another Rollo printer review. We already did one in our blog, Best Direct Thermal Printers for Small Businesses 2020, and others have done theirs, too. Rather, this is an assessment of its accessory, the Rollo label holder, and then some.
The Rollo thermal printer has been many online sellers' go-to unit for the last couple of years. Some are happy with it because it is cheaper than other 203-dpi gadgets. Others, however, are not because it cannot house rolls and fanfold labels inside it. That is why the makers of the unit also came up with this label holder.
So, can we rely on the Rollo label holder to seamlessly support your rolls and fanfolds while you're printing? That's what we're here to answer.
But first, let's have some background information on this thingamajig.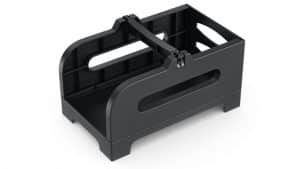 Background Information on the Rollo Label Holder
The Rollo X1038 runs on direct thermal technology. For those who are checking out these gizmos for the first time, that means that the gadget uses heat on thermally sensitive paper to print images.
Most stores these days use direct thermal labels for barcoding groceries and other retail items. Unlike inkjet-printed stickers, direct thermal labels are smear-proof, so the prints can stay clear even if they get rained on. However, they fade after 6-12 months, which is why they are only used for short-term functions.
Thermal printers are usually more expensive than inkjet and laser printers. However, they do not require pricey consumables, such as inks, toners and ribbons. So these machines become more cost-effective over time for high-volume applications. They are also much more efficient, and compact models are available. So retailers, especially those selling online, find them really convenient.
The Rollo printer is a less expensive alternative to the likes of the Dymo LabelWriter 4XL and Brother QL-1110NWB. All three are appropriate for use in small offices and home-based businesses.
Rollo is a wide printer, as it can run 4" stickers. So you can make various sticker types with it, including shipping labels, barcodes, price tags and more. This is in contrast to slimmer devices like the Zebra ZD410, which are limited to smaller labels, e. g. patient tags in healthcare.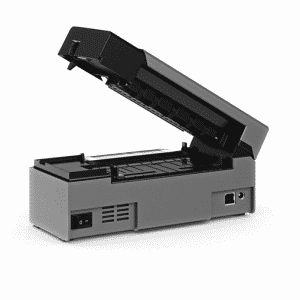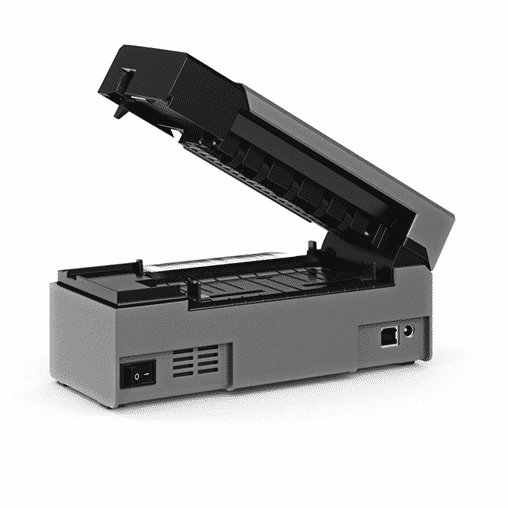 Of all these units, Rollo has the most minimalistic design, particularly because it lacks an internal label holder. Without it, there is no support for roll labels while printing. Imagine an entire label roll rolling off your desk while you're still using it!
Of course, you can just settle for fanfolds, which are less likely to get displaced during printing. However, the undersurfaces of such labels are left unprotected from moisture and dust without support.
Some people improvise with a shoebox to lessen the hassle. But that tends to look unprofessional to colleagues or customers visiting one's shop. And of course, shoeboxes can get wet and crushed easily, and they don't ensure consistent alignment during printing. So Rollo users are left with no choice but to get the label holder.
The question now is, is it worth it?
The Rollo label holder is a black plastic assembly made of five pieces—the base, rear, two sides and a spool. When you order it online, it is shipped to you disassembled, so you have to put it together. And it's not that hard to do. 
Its dimensions are 9" x 6" x 4.5", making it bigger than the actual printer, which is just 7" x 3" x 3.3". You will notice this difference from the pictures here and the actual merchandise. The spool has a diameter of 1", and it cannot be adjusted to accommodate big-core labels like those given for free by UPS.
Due to the spool's position, the Rollo label holder cannot support media with outer diameters greater than 6". It can, however, house 4" x 6" stickers, as the interior is about 5" wide. It weighs only about 10 oz. Retailers currently sell it for $19.99, which does not include shipping. 
Most Rollo sellers' photos display the printer and label holder close together and at a perfectly perpendicular angle. They don't show potential buyers the supposed location of the USB and electric cables, which go between the two.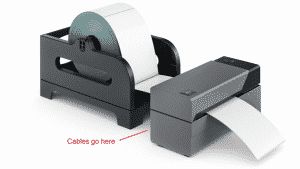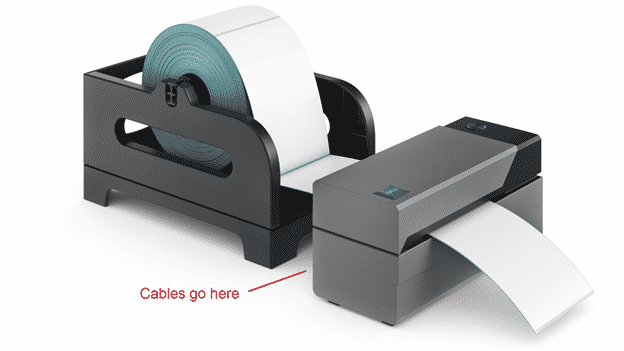 In reality, the cables get in the way of this perfect setup because they slant the label holder to one side when put close to the printer. To prevent misalignment, you have to position the mount a few inches farther from the machine.
How do all these impact the product's overall performance and value?
Rollo Label Holder Pros
The advantages we see from the Rollo label holder are the following:
It is easy to assemble. This should take teenage kids no more than 5 minutes.

It is waterproof, so it can protect labels from accidental soda spills on your desk.

It is made of non-toxic material. Your precious dog will be fine even if he accidentally chews on it.

It has big-enough parts and blunt edges, so it's infant-friendly, too.

It can be used on both rolls and fanfold labels.

It keeps stickers in a neat stack. It prevents rolls from rolling off the desk while you're printing. It protects bottom fanfold labels from dust.

When properly aligned, it can feed sticky tags smoothly into the printer.

It is lightweight. You can transfer it from one office corner to another easily. 
Rollo advocates are willing to pay 20 bucks and then some for this plastic label holder. They swear that having it is much better than making do with a shoebox. Aside from placing the mount away from the printer, some people remedy the positioning problem by just putting the machine on top.
Does that really solve the problem?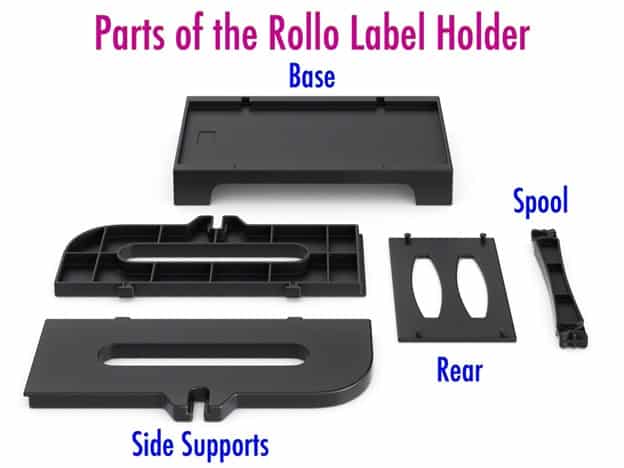 Rollo Label Holder Cons
Here's what we see are the design flaws and other disadvantages of this product.
1. The design trumps the Rollo printer's compactness in several ways.
The cords' position requires users to place the label holder a few inches away from the printer. This means that, with the mount being 9" long, it takes about an extra foot of space beside the machine.

Rollo pictures suggest that, when used, the label holder must be positioned perpendicularly to the printer and on the same surface. It would have saved more space if they were designed to be put side by side or if one was on top of the other.

This accessory is bigger than the product it supports. Sure, we can definitely say the same thing about some surround speakers and the laptops they amplify. But of course, they are not functionally the same.
2. You'll need to place a rough or clingy material underneath the mount during printing. On smooth surfaces, it easily shifts with label feeding. Print misalignment is more real with this one than gadgets with internal media holders.
3. The interior has quite a bit of wiggle room for labels. Off-center prints are frequent, which can make retail tags look unprofessional.
4. The cords tilt the labels out of position when the mount is placed too close to the machine. This can ruin prints or cause logjams.
5. The Rollo label holder cannot hold 8" media because of the spool's position. It doesn't help that it is not repositionable. You have to replace roll labels frequently and throw some of your freebies away if you insist on choosing this over a shoebox.
6. It is not absolutely necessary for fanfold labels. You can just put those stickers on any cheap, small, yet sturdy tray while printing. Colored trays can jazz up your desktop, too.
7. The spool can only hold media with 1" cores. It cannot enlarge to accommodate those with 3" cores.
8. The mount easily comes apart.
9. Without an attached printer mount, putting the machine on top risks breakage of the fragile plastic assembly or the device falling off.
10. Similar label holders are cheaper by at least 50%.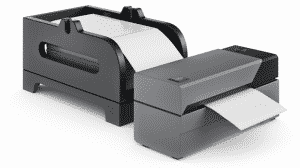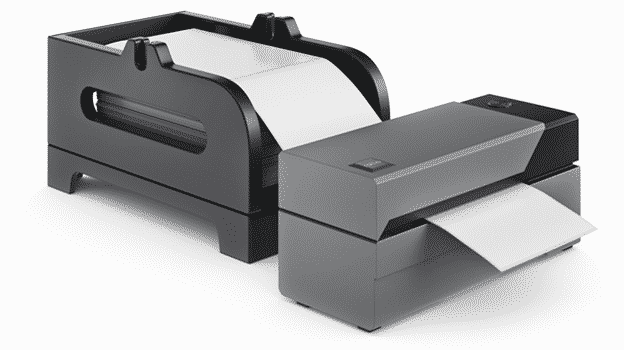 Overall, this product has more disadvantages than advantages, especially when you consider its price. If you already bought a Rollo printer, you may want to consider another label holder, or maybe just stick to your good old shoebox.
What Things Can You Do With A Rollo Label Holder?
Despite its limitations, none of us would want $19.99 (plus shipping costs) to go to waste. You can still use the Rollo label holder for making the following stickers:
And many more. At the end of the day, the Rollo label holder can do what it was intended to do, which is to support labels for the thermal printer it was created for.
Conclusion
The Rollo printer is a compact, minimalist thermal unit that lacks an internal media holder. A label support is sold separately, which can help organize both rolls and fanfolds. But when you take a look at it more closely, it can make you rethink its price.
Despite this, it still allows customers to use the Rollo printer as they normally would. We hope that this short review has helped you make an informed decision about this product if you're thinking of buying it.