A Simplified Walkthrough of the TTB Requirements and More
One of the world's most loved beverages is beer. The Coronavirus pandemic may have canceled Oktoberfest this year, but people's taste for brew never really went away.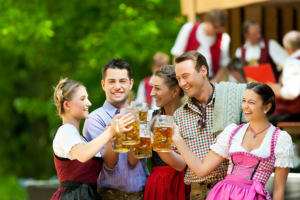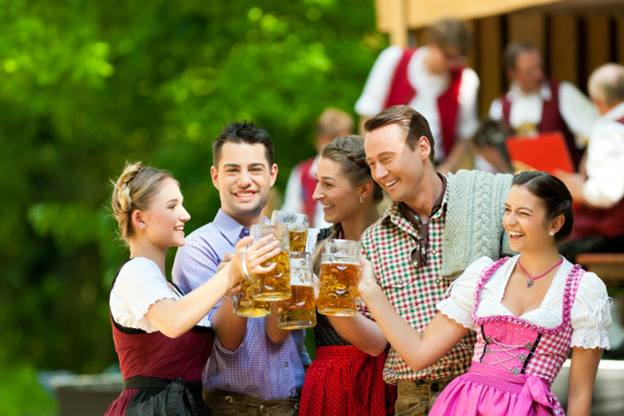 We previously discussed the importance of proper food labeling. The same essentially goes for beverages, especially alcoholic ones like beer. Additionally, hobbyists make collections out of beer labels. Here, we talk about how you can design your custom beer label stickers and ensure that they meet legal requirements.
What is Beer, and How is it Produced?
Beer is the third most widely consumed drink, next only to water and tea. If you think that the Corona stopped people from chugging Corona (pun intended), think again.
And if that isn't enough, these numbers continue to rise every week. What's in this drink that makes it endure even through hard times?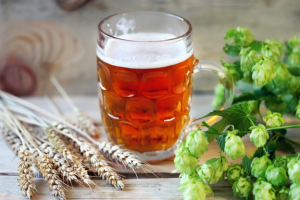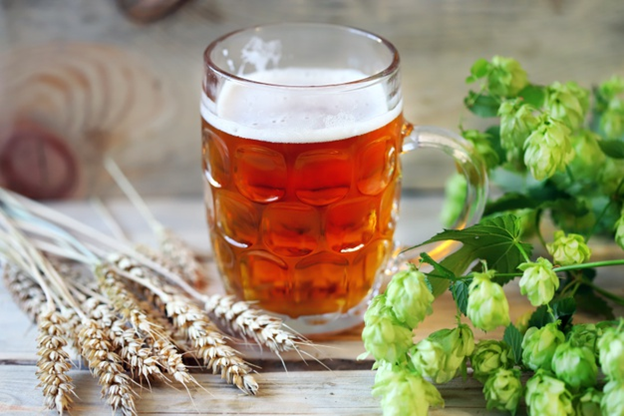 To make beer, you must have a source of pre-digested carbohydrates, notably barley. Other grains may be used, like wheat, rice, corn and sorghum. The carbohydrate brew is flavored with hops and fermented by yeast. The process makes a lot of foam due to carbon dioxide production, although some manufacturers replace this by forced carbonation to ensure consistent quality.
Various beer varieties have been made owing to advanced brewing technology. Beers of different flavors and colors abound in the market. Calorie reduction is possible through enzymatic treatment of the brew. While alcohol content widely differs, the typical range is around 4-6% by volume.
The most common containers used by retailers selling beer are glass bottles and aluminum cans. Bars may sell it in kegs.
Note these details because they are important in a beer label's design. Just like other products sold for human consumption, proprietary stickers on alcoholic drinks are strictly regulated.
Why is it Important to Label Beer?
In our blog, General Food Labeling Information for Small Businesses, we explained the importance of labeling perishables. The benefits are similar for beer and include the following: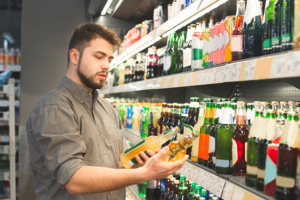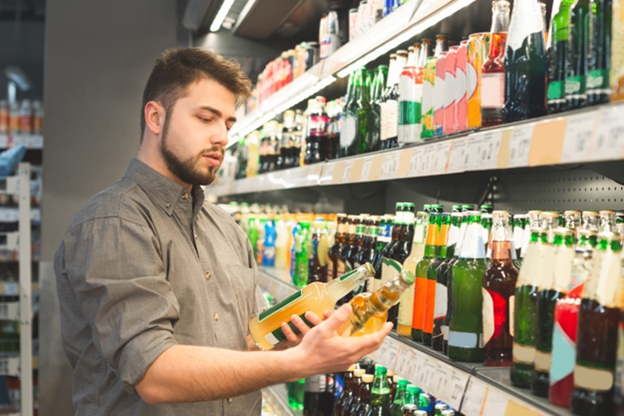 Labeling Let You Comply with the Law
To protect the public, beer stickers are regulated by two government organizations, the Food and Drug Administration (FDA) and Alcohol and Tobacco Tax Trade and Bureau (TTB). The products under each one's jurisdiction differ based on whether or not they are classified as "malt beverages."
A malt beverage is either of two things:
Made from malted barley and not another grain, or

Brewed with hops
If neither one applies to a drink, it is under the FDA's jurisdiction, which enforces its own labeling rules. Meanwhile, the TTB regulates the product if one or both conditions apply. Our discussion here will include only those falling under the latter category.
In the TTB, Kent "Battle" Martin, the dreaded "Beer Bottle Dictator," approves all beer labels. Some say that he's now retired, but others don't believe that he's really gone. In any case, when Battle (or his replacement) approves your sticker, the TTB will issue you a certificate of label approval (COLA). You cannot market your beer without this document.
Beer Information Protects Consumers
Of course, people can recognize beer from afar, but how can they tell if it contains stuff that may harm them?
TTB regulations allow you to limit information about your brew's secret ingredients. But they still require that you declare the presence of potentially unsafe substances in it. Likewise, beer label let consumers choose between varieties with different alcohol and caloric content, flavors, etc. Manufacturer information is also crucial to customer care.
Beer Labels Help Promote Your Brand
These custom stickers allow consumers to easily distinguish one kind from another. Brand recognition is a huge deal when you've already earned a business reputation.
Such is the case of Busch Light, St. Louis' most famous budget beer. With its catchy ads, yummy flavors and unique packaging design, it has stood out without riding on the popularity of its relative, Budweiser. It even made a 44% sales jump amid the Coronavirus pandemic.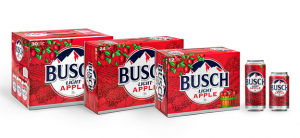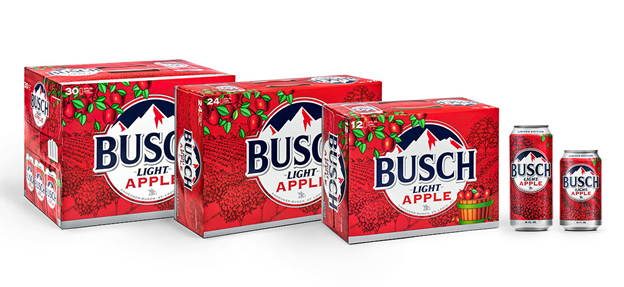 These are the most compelling reasons why you should label your beer before marketing it. Who knows? Your sticker may just make it to someone's collection.
The TTB Requirements—What Goes on a Beer Label?
From the TTB's Beverage Alcohol Manual, the following information is mandatory on beer or wine labels:
1. Brand Name
This information pertains to the name under which you're going to sell your beverage. It is the beer label's most prominent information, so it is always written in front. Without a brand name, the product shall be called by its packer or importer's name.
2. Class and Type Designation
This information also appears in front. It refers to the specific kind of beverage you're marketing, e. g. ale, lager, beer, malted liquor, etc.
Beer drawn from a keg is called "draft beer" or "draught beer." Domestic draft beer may or may not be pasteurized, which is done to clear microbes. Pasteurized beer may be designated as "draft-brewed" or having "draft flavor." It is important to note this on the label.
3. Name and Address
This pertains to the name, city, and state of origin of the beer's producer, bottler, packer or importer. Local beer makers have the option to omit explanatory phrases like "Brewed and bottled by" in their labels. However, importers are required to have words like "Imported by," "Sole US Agent," etc. preceding their names. This information may appear on the front, back or side of the sticker.
4. Net contents
Unlike wines and spirits, malt beverages have no standards of fill, meaning that they may be bottled or packed in any size container. You'd know this if you've ordered beer at a bar. In any case, retailers do sell beer in specific quantities. The front of the label should indicate the net volume, expressed in American or metric measure.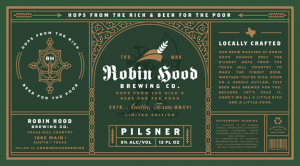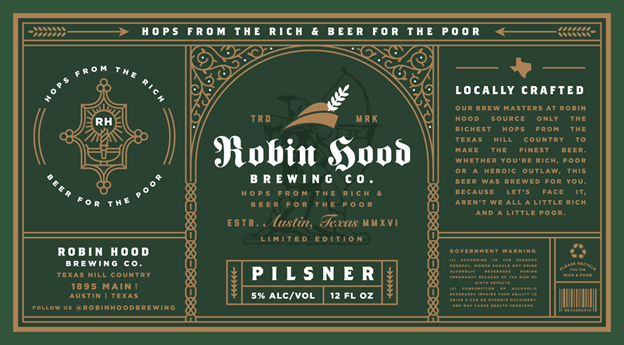 5. Alcohol content
This detail is optional unless required or prohibited by state law. If state-mandated, alcohol content must be expressed in % by volume, to the nearest 0.1%. It may be written at the front, back or side of the label.
Manufacturers may use the following terms to describe a malt beverage:
"Low alcohol" or "reduced alcohol" if it has less than 2.5% alcohol by volume.

"Non-alcoholic" if the drink has less than 0.5% alcohol by volume. If this term is used, the words "0.5% alcohol by volume" must also appear on the label.

"Alcohol-free" if it has none at all. If this term is used, the words "0.0% alcohol by volume" do not have to appear on the sticker.
Check your state laws for any other regulations on declaring beer alcohol content.
6. Disclosure of the Presence of Potentially Harmful Ingredients
Some beer additives may be harmful to health. The TTB mandates the declaration of the following ingredients if they are present in your product:
FD&C Yellow No. 5
This colorant is otherwise known as "tartrazine." It can trigger allergies and asthmatic reactions in susceptible individuals. There are mixed reports about its ability to cause cancer. The label must say, "CONTAINS FD&C YELLOW #5."
Saccharin
Saccharin is used as a sweetener. It can cause bladder tumors in laboratory animals. The label should state, "USE OF THIS PRODUCT MAY BE HAZARDOUS TO YOUR HEALTH. THIS PRODUCT CONTAINS SACCHARIN, WHICH HAS BEEN DETERMINED TO CAUSE CANCER IN LABORATORY ANIMALS."
Sulfites
These are substances used as preservatives and color stabilizers. They can induce allergies and asthmatic symptoms. The label must declare "CONTAINS SULFITES" if the beer has at least 10 parts per million of sulfur dioxide. If it has other sulfiting agents, the label must say "CONTAINS SULFITING AGENTS" and identify the specific type.
Aspartame
Aspartame is a common sweetener that is harmful, even lethal, to people born with phenylketonuria. The label must state "PHENYLKETONURICS: CONTAINS PHENYLALANINE" if it is used to sweeten a malt drink.
These cautions may be written at the front, back or side of the container. Note that saccharin and aspartame disclosures must be placed separately from all other information.
7. Health Warning Statement
Even without the above substances, beer is unsafe because of its alcohol content. Producers and packers are thus required to include the Surgeon General's warning in their labels:


The words "GOVERNMENT WARNING" must be in bold, uppercase print.
8. Country of Origin
This information is only required of imported beer. The country of origin should be preceded by words like "Product of," "Brewed in," etc. It may be written on the label's front, back or side. Products made abroad must be registered with the US Customs Service.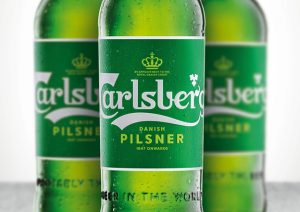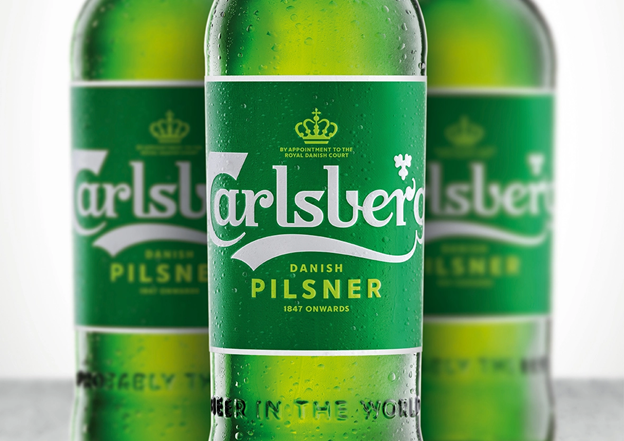 All of these details must be written against a contrasting background to ensure legibility. As you can see, the ingredients list and nutrition facts panel are not required, but some manufacturers include them due to customer demand.
Except for alcohol content and the health warning statement, all information must be written with a minimum size of 2 mm for containers larger than ½ pint. The minimum size for smaller ones is 1 mm. Details of the font sizes are in the TTB manual.
The net contents may be branded, blown or burned into the container. Local brewers have the option to do the same with their company names and addresses.
What Label Size is Appropriate?
The beer label dimensions depend on the container and its size. 
Glass Bottles
In the US, beer is normally sold in six bottle types: stubby (or Steine), longneck, heritage, bomber, mini-growler and growler. Their volumes, heights and recommended label dimensions are below.
Bottle Type

Volume in Fl. Oz.

Volume in ml

Height

Recommended Label Dimensions (Height x Width)

What does it look like?

Stubby or Steine

11

330

6.5"

3" x 4"

or 3.5" x 4"

Longneck

12

355

9"

Rectangular labels:

3.5" x 4"

or 4" x 3.5"

Oval labels:

3.5" x 2.25"

Heritage

12

355

7.7"

3.5" x 4"

Bomber

22

660

11"

Rectangular labels:

4" x 3.5"

or 4" x 4"

or 5" x 5"

or 4" x 6"

or 6" x 4"

Oval labels: 3.5" x 2.25"

Mini-growler

32

950

9"

4" x 4"

or 5" x 5"

or 4" x 6"

Growler

64

1,900

11"

4" x 4"

or 5" x 5"

or 4" x 6"

or 6" x 4"
Aluminum Cans
The standard sizes of aluminum beer cans in the US are 12-oz, 16-oz and 32-oz. Their heights and recommended label sizes are below.
Can Size

Height

Recommended Label Dimensions (Height x Width)

What do they look like?

12-oz

4.75"

3.5" x 4"

16-oz

6.75"

4" x 3.5"

32-oz

6.19"

4" x 4"

or 5" x 5"

or 4" x 6"
If you plan to make beer labels on your own, the best printer type to use is the thermal transfer printer. Beer is normally served cold, so containers can get wet from coolers, refrigerators and melting ice. Therefore, labels must be able to endure wetness, and thermal transfer printers are the best office gadgets for such stickers.
If you haven't made a custom printed label before, you might want to read our blogs about its parts, the facestock and adhesive. Choosing the right materials lets you create durable, fade-resistant stickers.
The facestock is the label's frontal aspect, so it needs to be smear-proof. Beer makers use matte, glossy and metalized paper. Plastic stickers, which have regular and shrink variants, are also available, but they are pricier. Wax ribbons are used for creating matte paper labels, whereas resin-containing ribbons are used on plastic and coated paper.
Beer label adhesives are typically of the semi-permanent type. They are tacky enough to stay glued despite wetness but let you peel off the label cleanly if you want to reuse the container. Acrylic is non-toxic, environmentally friendly and strong. Most labels are self-attaching, but you can ask your suppliers if they use adhesives with these qualities.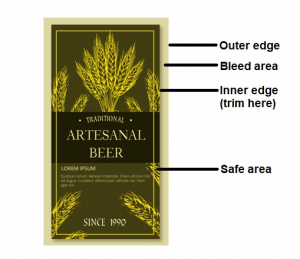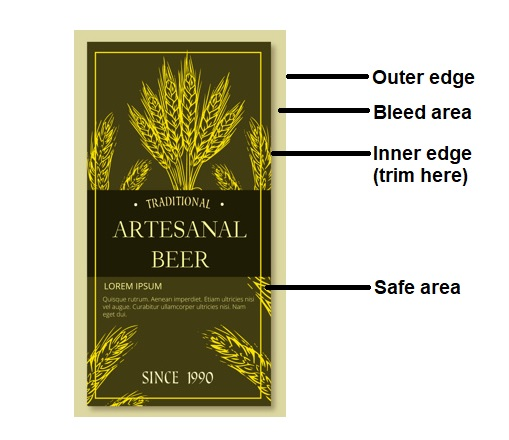 For best results, set your thermal transfer printer to at least 300 dpi. Determine the outer and inner edges of your label. Allow some bleed by printing 0.125″ beyond the inner border, then trim your label along this border.
What are the Important Elements of a Beer Label Design?
We already discussed the various packaging elements that stand out to customers in our blogs on packaging design and color. The same principles apply to beer labels and containers. Your beer packaging is critical to marketing, so it needs to embody your brand identity and catch the buyers' attention at the same time.
Consider the following when designing your beer label templates:
Brand Identity vs. Customer Appeal
So you already have a brand name and an idea of how you want people to perceive it. The problem is, it's impossible to come up with design concepts that would please everybody. So what do you do?
First, identify your target market. What kind of buyers do you want to sell to? Would you like to market to penny-pinching college kids or a well-funded but more mature crowd?
Different art or visual cues attract these consumer brackets. Brightly colored packages may appeal to younger people, but older ones may not take them seriously. And trying to sell to everyone all at once would be a big mistake. Figure out your target market and research its preferences so you can start designing your custom beer label the right way.
Second, define your unique selling proposition (USP). Your product's USP can come from anything that makes it different from others. Does your brew have the same kick and alcohol content as the old Oktoberfest beers? Is it specially flavored to appeal to female consumers? Are you using a secret hopping technique to make beer that aficionados will find irresistible? Knowing your USP can also guide you in making an appropriate label design for your product.
Packaging and Label Design Elements
You need to choose a container first before making wine or beer labels. Our food packaging blog tackled the various factors to consider when determining the packaging materials for solid, semi-solid and liquid perishables. You have the same concerns when packaging beer.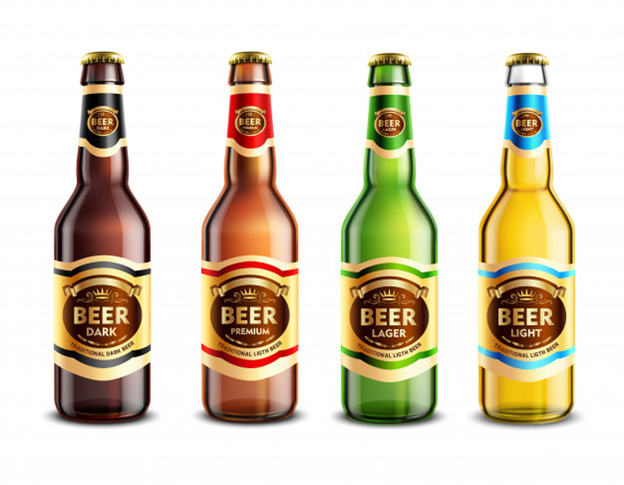 Physical Protection
Moisture, air, warmth, bacteria, etc. can affect beer quality. Traditional containers are impenetrable to these elements, hence their wide use. Additionally, dark bottles, cans, and kegs also block ultraviolet light, keeping it from ruining the taste of hoppy beers. 
Product Visibility
The sight of real food and drinks attracts more customers than mere pictures do. In this category, bottles have an advantage over other containers.
Convenience to Buyers
This pertains to features like easy-open tops, reusability, endurance to cold temperatures, etc. Wrap rage occurs when a consumer gets frustrated by opening a package. It can cause injuries and is known to drive away customers. It is not uncommon for beer drinkers to have broken teeth or nails from trying to open tightly sealed containers.
Attractiveness
Malt beverages typically come in bottles, cans and kegs. Customers have their own preferences based on culture, age, gender and many other factors. For example, green bottles are historically associated with luxury and class, so many high-end beers are sold in these containers. Design-wise, glass bottles have more potential than kegs and aluminum cans.
The Product's Physical State
Beer is liquid, so it needs to be in a totally leak-proof container. Bottles, cans and kegs all meet this requirement.
Beer Container Size
As explained earlier, beer containers come in various sizes. Size has both a psychological and health impact on buyers, as we explained in the food packaging blog.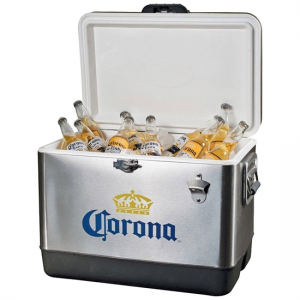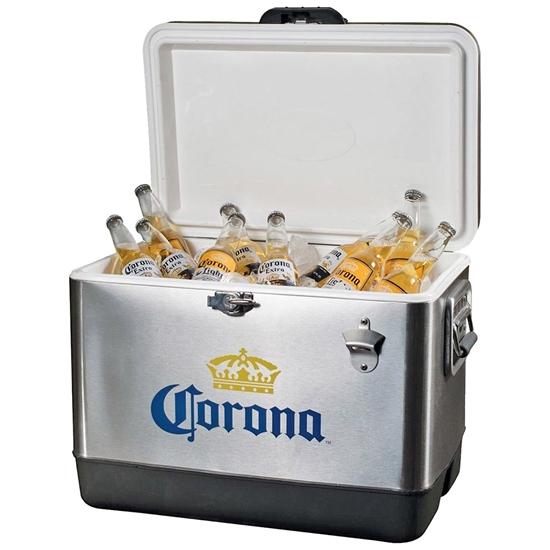 Potential Hazards of Direct Contact between the Product and Container
Retailers normally sell beer in glass bottles, aluminum cans and kegs made of wood or stainless steel. Their materials are FDA-approved for many food and beverage types because they do not leach harmful chemicals. Recently, some manufacturers also started using polyethylene bottles, which are safe and recyclable.
Security Features
They include flip-top caps, shrink wrap seals, twist-off caps, etc. Open seals potentially expose beer to contaminants, so these tamper-evident features let customers know if the brew is safe to drink. Consider putting these in your packaging as an added service. 
Effect on Shelf-Life
Food and beverages are safer in non-porous containers, which delay spoilage by blocking microbes and other contaminants. Additionally, cold temperature tolerance and conductance allow some containers to extend shelf-life. Bottles, cans and kegs are non-porous and can be refrigerated with beer. They can extend the brew's shelf-life as long as they are kept in a cool place.
Container Weight
This is something to think about when you start shipping your product to remote distances. Glass bottles are heavier than aluminum cans and are also breakable. If you've chosen to bottle your beer initially, you must consider adding a canned variant when you start sending it by mail.
Fully loaded beer kegs need special shipping arrangements because of the great pressure they have within. Ask your carrier about their requirements for transporting beer kegs.
Cost
A glass bottle is ten times more expensive than an aluminum can, but homebrewers find bottles easier to recycle. Kegs are also expensive but easy to recycle. However, most consumers prefer bottles and cans over kegs.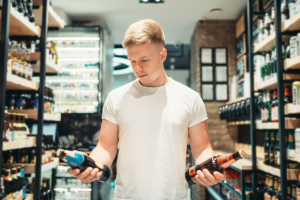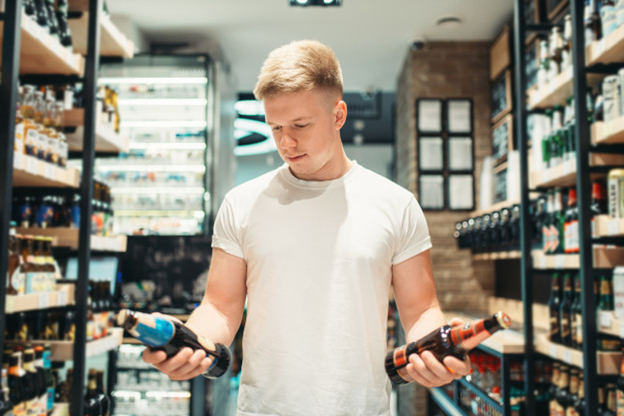 These are the factors to think about when choosing your beer container. Prioritize the ones that will suit your business needs best.
After determining your beer container, think of label design elements that can match it. They include color, label shape and size, typography, graphics and messaging. Keep the following in mind:
Colors
Colors convey different meanings, so they attract different kinds of people. There is no hard rule in choosing a label color except to research your target buyers' preferences. Also, make sure that they match the container's color. Black and brown glass, clear glass and aluminum cans have neutral colors, so they can go with a wide range of hues. Green bottles are restricted to greens, blues, reds, yellows and neutral shades.
Shapes
Different shapes also have different connotations. On beer labels, straight lines mean simplicity, power and efficiency. Curved lines denote sophistication, maturity or femininity. 
Sizes
For bottles, the label size directly affects product visibility, not just design. You may choose to cover the entire body. However, leaving a bit of a gap at the back or the sides gives you more design and cost flexibility. Some manufacturers have both neck and body labels for longnecks and bombers, which they do for style.
For cans, it's important to leave enough white spaces between the information panels so they don't look too crowded.
Typography
Typography considerations are similar to shapes. Straight fonts convey efficiency, routine, simplicity and power. Curved fonts embody luxury, intelligence or femininity.
Graphics and Style
Graphical elements include the brand name's font and style, logo and other art images you want to include. Be thoughtful about your theme because Battle has been known to reject labels based on graphics alone. For example, he once turned down a label with the American flag on it because it violated the Flag Code. Battle has also rejected stickers bearing pictures that might offend certain groups.
Messaging
To emphasize identity, some wine or beer makers put slogans on their labels or stylize their brand names, which is perfectly acceptable. If you want to do this, make sure that the messaging passes TTB standards.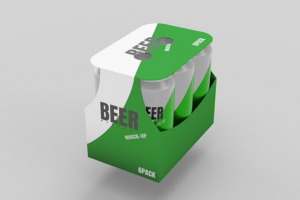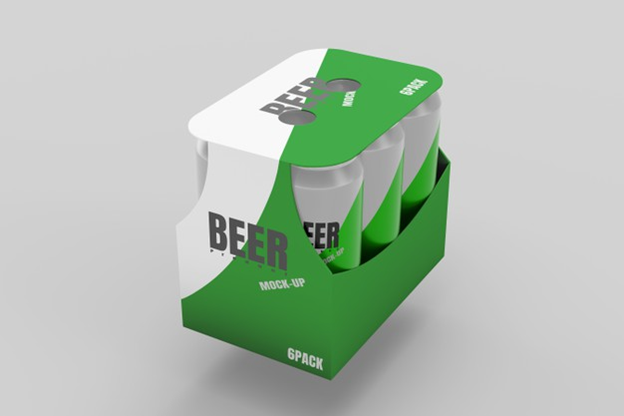 When designing the container and sticker, don't forget the secondary packaging, which is the box or case that will house the product in bulk. Beer is often sold in packs, and their mid-lockdown sales boost just proved that this aspect is also important. Choose a secondary packaging and design that are perfect for storage, gifting and shipment. 
Who is Designing Your Sticker?
Lastly, in designing a beer label, you have to think of who is doing the job. If your budget is slim and you've decided to make a DIY sticker, you can crowdsource to ensure that it appeals to many people. If you have money to spare, hire a researcher and a designer to help you.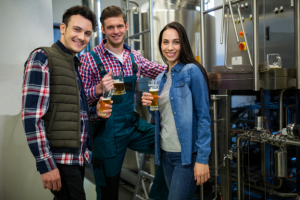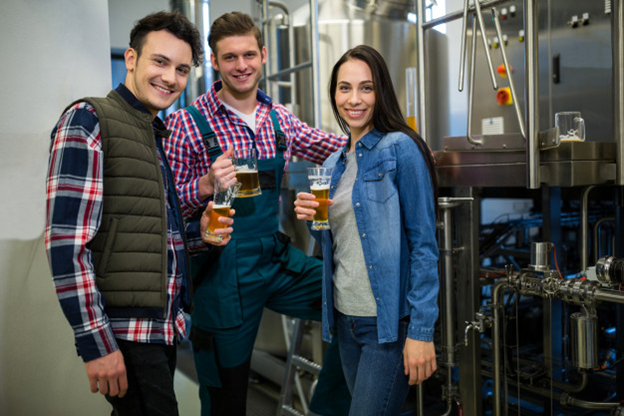 These are our beer label design tips. Read them, digest them and make your labels as if Oktoberfest is here to stay. 
Conclusion
For people to swarm at your beer like bees, you have to create an eye-catching and irresistible label. This label has to blend perfectly with the packaging while being able to satisfy state and federal regulations. We have just presented to you a guide on how to design beer stickers, and once again, we hope that we have brought information that will be of immense value to you.
Make Head-turning DIY Beer Labels and Packages with enKo Products
At enKo Products, we stand side-by-side with American brewers. We support them by supplying these affordable, high-quality labeling and packaging materials:
Browse the enKo Products website now and find the best solutions to your packaging and labeling needs.