----- [Part 2 of FDA Labels: General Food Labeling Requirements] -----
Nutrition and Solid Food Labels
Previously, we pointed out that small businesses may omit nutrition facts from their food labels. This can help them save money because nutrition labeling entails food analysis and utilizing extra labeling materials. We also stated which establishment types are eligible for nutrition labeling exemption.
However, for public health safety, the FDA still requires retaining some vital details on product packaging and labels. This blog shall go into food labeling requirements and the most important ones. The discussion will be limited to the guidelines for solid and semisolid food labels. This does not include the USDA regulations, guidance documents, reports, and/or other resources.
What Product Information is Legally Required on a Food Label?
For small businesses, four kinds of product information are mandatory. Each one is briefly described below:
This is simply the food's name and should be the most prominent print on the packaging. The brand name is not the statement of identity. Ideally, it should not be more conspicuous than the food's name.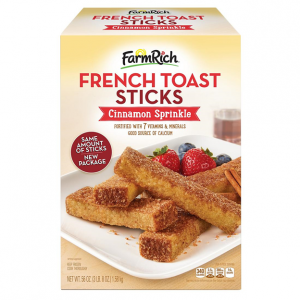 The old packaging of Farm Rich French Toast Sticks had the food's name printed more prominently than the brand name.
The statement of identity is normally the legal name by which the product is recognized. If it has no legal name, its common name or any simple, truthful description may be written instead.
Some food items may be imitations and should be conspicuously marked as such. They are copies of other products that may lack some nutrients or contain different nutrient types. Examples are veggie meats, which have protein types and vitamins different from animal meat.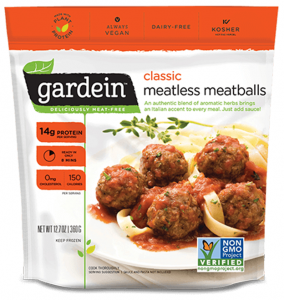 Gardein "meatballs" are plant-based imitations of meatballs. "Meatless meatballs" is a way of saying that it is an imitation product.
Statement of Net Quantity of Contents
The net quantity of solid or semisolid foods is expressed in weight units. The metric and US customary systems are used, as both are recognized in every state. Water is included in the net weight if it appears significantly in the final product.
The net quantity is written below the food's name. It must be easy to read, taking care that the letters and numbers do not crowd together.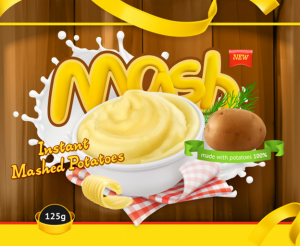 This label on the package shows the product identity in the middle and the quantity below.
List of Ingredients and Value Added Products
The ingredients are listed according to their net weight but in decreasing order. Include water if the final product contains a significant amount of it.
Common names are used unless the law says otherwise. An example is "ascorbic acid" in place of "vitamin C."
When using an approved chemical preservative, you may declare its purpose on the label. For example, some sweets need ammonium hydroxide to prevent their spoilage. Ammonium hydroxide counters acids that may be released by bacterial contaminants. The FDA classifies it as a "pH control agent," which you may indicate on the food label.
Traces of spices and flavors may simply be written as "spices," "flavor," "natural flavor," "artificial flavor," etc. However, if spices are a product's main ingredients, they must be specified.
Artificial colors must be singularly named, whereas natural ones may be stated simply as "colorings" or "color added." Artificial colors include Citrus Red No. 2, FD&C Green No. 3, etc. Examples of natural colorants are yellow hues derived from annatto, beta-carotene and caramel.
Food allergens must be declared prominently, as required by the Food Allergen Labeling and Consumer Protection Act (FALCPA). The eight major food types that cause allergies are milk, egg, fish, Crustacean shellfish, tree nuts, wheat, peanuts and soybeans. We shall discuss food allergen labeling requirements in the next blog.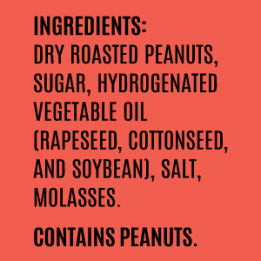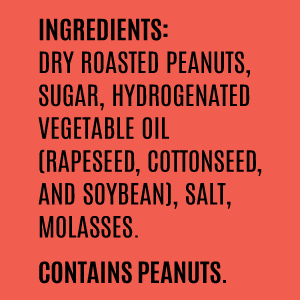 The Manufacturer or Distributor's Name and Contact Information
The FDA requires the following business details on food labels:
Business name

Street address

City or town

State

Zip Code
Indicate if the business name is that of the manufacturer, distributor, importer, etc. If the product is exported or manufactured outside of the US, the country of origin must appear conspicuously on the label for food safety.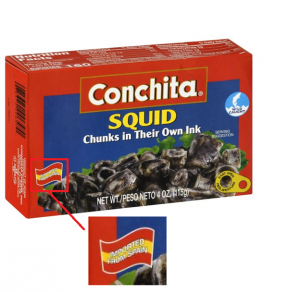 This pack of squid chunks is imported from Spain, which is indicated on the label.
Where Should These Statements Appear on the Packaging?
The packaging's exterior surface is divided into two panels based on the type of information that each contains:
On the Principal Display Panel (PDP) of the Package
The PDP is the container's most prominent part. It is usually the front, but the top and nearby surfaces can serve as the "alternate PDPs." The PDP contains the statement of identity and net quantity per pack. 
On the Informational Panel of the Product Label
The informational panel is located to the right of the PDP. It contains the ingredients list, business details, and, if required, the nutrition facts. The details here should be placed closely together without intervening text or image, such as a barcode.
If any of the above information is written in a foreign language, an English translation must be provided immediately next to it.
Graphics and colors used on the product packaging must not diminish the visibility of these label statements.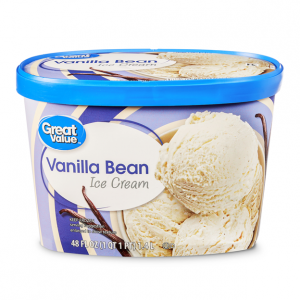 Great Value food labels are normally FDA-compliant. Here, the PDP shows the product identity (vanilla bean ice cream) in the most prominent font. The quantity is shown below. Note that the top of the lid has been used as an alternate PDP.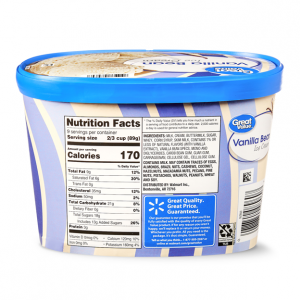 The rear side serves as the informational panel. Here, you can find the ice cream's nutrition information, ingredients, allergen declarations and the distributor's contact information.
Other details, like label and font measurements, are available on the FDA's Food Labeling Guide. Additionally, you may seek help and guidance from consulting services like Food Lab and the EAS Consulting Group. They help ensure that your food label or nutritional information is accurate and complete and that they indeed comply with FDA labeling requirements.
Can I Print My Own Food Labels?
Yes, you surely can! If you're on a rather slim budget, you can create your own food labels—even packages—from inexpensive materials. Customizing your own packaging design lets you promote your brand personality and company values. You can also lower your costs at the same time.
Additionally, you may want to consider using eco-friendly packaging. Studies show that most American customers support environmentally conscious businesses. Switching to sustainable packaging has numerous benefits, including increased sales and cost reduction. Plus, you also help revitalize the ecosystem.
enKo Products offers compatible Dymo labels in various sizes for different professional functions. The material that we use is designed to run well through these printers, generating excellent results without costing a fortune.
: 300 Labels/Roll
: 2-5/16″ x 4″
Printer Technology : Direct Thermal
The FDA strictly regulates food labeling to protect the American public. Small businesses can comply by marking their packaging with the product's name, net quantity, and ingredients, as well as their business contact details. Essential information has been presented here regarding solid food labeling for the safety of the consumers. Additionally, you may visit the FDA website or ask a food labeling consultant to ensure that your stickers are compliant.
Are You Ready to Start Labeling Your Merch?
enKo Products supports food businesses and manufacturers by helping them reduce their packaging and labeling costs. We offer the following high-grade materials at affordable prices: 
Place your orders today and get some astonishing deals!