Packaging Cosmetics Part 1: FDA Cosmetic Labeling Requirements
Beauty products are chemicals put on the body to enhance one's looks.
"Chemicals."
That word alone should make anyone cautious. The food that we eat is made of chemicals, and so is the air we breathe. But cosmetics are a different kind altogether. That is why the FDA has strict cosmetic labeling regulations in place.
Some whitening creams that wind up on Amazon are banned internationally for having high mercury levels. Lead accumulation can occur with daily exposure to lead-containing colorants present in some lipstick brands. These substances can cause multiple health problems because they are easily absorbed by the skin, circulate in the blood and accumulate in vital organs.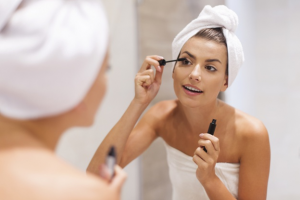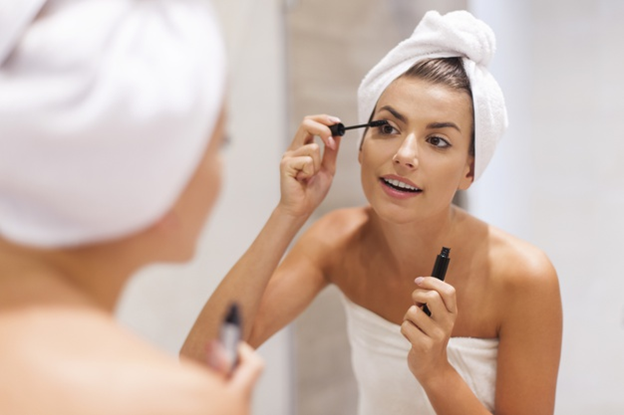 We previously wrote a series of articles about proper food labeling. Now, we devote this blog to the FDA guidelines on proper cosmetic labeling and explain why compliance is important.
What Is a Cosmetic?
Section 201(i) of the FD&C Act defines a cosmetic as a product applied to the human body to cleanse or enhance one's attractiveness. Its effect is purely physical and not physiological, meaning it does not interfere with regular body functions. The raw materials used for making beauty products are also included in this category.
Soaps that are not intended to alter one's appearance are not considered cosmetics. However, having a beautifying effect, such as skin softening, qualifies them for inclusion in this product class.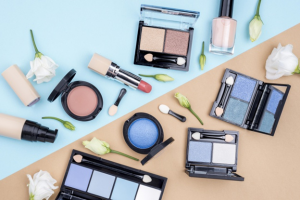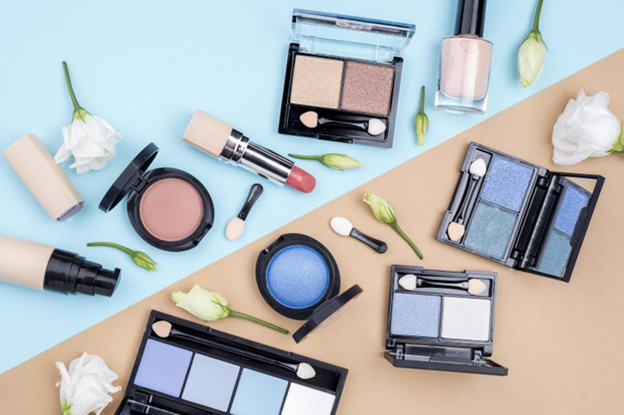 A beauty product formulated to treat or prevent disease or interfere with any bodily function to enhance one's looks is also considered a drug. Some examples are:
Sunblock, which prevents sunburn

Anti-dandruff shampoos, which are medicated to reduce or prevent dandruff formation

Minocycline preparations, which are anti-acne antibiotics

Whitening lotion, which blocks the skin's ability to darken
Most cosmetics with pharmacological actions are bought over the counter, and only a minority needs a prescription. The regulations for these products are stricter. For example, the FDA may request annual registration renewal from companies producing such goods.
How Important Is It to Label a Beauty Product?
A cosmetic label shows vital information about a beauty product. We've discussed the importance of product labeling multiple times in previous blogs, and it is just as vital in the cosmetics industry.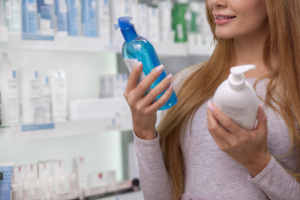 Cosmetic labels help products and packages stand out.
In our bleed printing blog, we mentioned that labels have the unique role of catching the customers' attention while giving them potentially life-saving information. The cosmetic industry specializes in aesthetic enhancement, and customers naturally associate attractive cosmetic packaging with superior quality.
For ease of design, beauty product labels are usually fashioned from polypropylene or paper. Additionally, the creative use of label colors helps them stand out both to new and loyal customers. To a new buyer, great-looking labels generate interest and engagement. To an old client, cosmetic tags highlight brands and make them easily recognizable in an aisle full of similar merchandise.
Cosmetic labels prevent confusion between similar products.
Black packaging is often used by high-end cosmetic brands like MAC and NARS. While loyal brandists and makeup collectors can easily tell them apart, new customers need more guidance in exploring their features. Cosmetic labels help them distinguish one brand from another, despite packaging similarities, to help them make informed buying decisions.
Additionally, when companies use the Pantone matching system (PMS), their colored labels can help consumers avoid fake merchandise. The PMS helps make packaging reproduction consistent. Color deviations, as well as text errors and font changes, can alert buyers of counterfeiting and keep them from wasting money on possibly substandard cosmetics.
Cosmetic labels help consumers avoid injuries.
The FDA requires cosmetic manufacturers to be truthful in labeling their products, particularly in disclosing their ingredients. Not everyone has the same tolerance to beauty products, and side effects can range from benign allergic rashes to life-threatening vital organ failure. Ingredient information helps people avoid potentially harmful chemicals. 
Cosmetic labels allow consumers to compare different products.
Various lotion brands can claim to make the skin glow, but they often use different ingredients to achieve this effect. Consumers will want to know which formulations work and which ones don't. More importantly, they'll want to be aware of the presence of any ingredient that can produce unwanted side effects. Cosmetic labels provide buyers vital information that can help them find the most suitable products for their needs.
Cosmetic labels let you comply with the law.
Regulatory compliance allows beauty product makers to operate their businesses without interruption. Misbranded cosmetics are at risk for product recalls, massive profit losses, factory shutdowns and negative publicity. Proper cosmetic labeling protects customers and gives them added peace of mind about their purchases. It ultimately helps enhance brand reputation. 
Cosmetic labels serve the interests of the manufacturers, retailers and consumers. They are required regardless of the size of one's business.
What Government Agencies Govern Cosmetic Labeling?
The FDA is only one of several federal agencies regulating the cosmetic industry. It governs beauty product formulations, labeling and packaging. It ensures that the ingredients and packaging materials used are safe.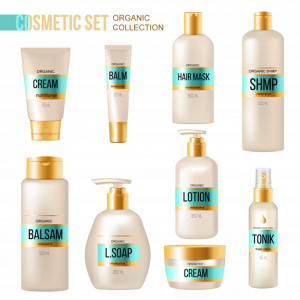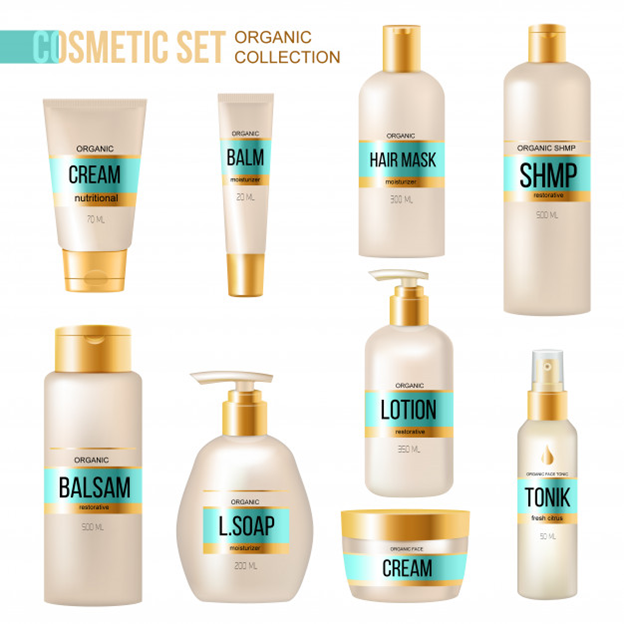 According to the National Institute of Standards and Technology of the US Department of Commerce, the federal agencies below also regulate beauty product quality and packaging.
This agency ensures that a cosmetic product is free of any hazardous substances, especially if it is marketed to minors. It also requires that beauty products be sold in child-resistant packaging if they contain unsafe substances that may be ingested by young kids. Otherwise, cosmetics not placed in such containers must be conspicuously labeled with the warning "This package for households without young children."
Products imported into the US must conform to CBP labeling and packaging regulations. For example, labels must have the product's country of origin and other important information written in English. Non-compliance can lead to denial of entry and cargo returns.
Beauty products containing antimicrobial and other pesticidal effects must be approved by the EPA, regardless of the country of origin. The department pursues legal action against companies making unlawful safety claims about these products on their labels.
The FTC cracks down on establishments making deceptive marketing claims on their labels. They include false statements about environmental safety, being made in the USA and others that can mislead the public just to boost sales.
The USDA regulates products that use the term "organic" in their labels. Technically, organic products are those made from agricultural ingredients. Cosmetic manufacturers can apply for National Organic Program (NOP) Regulations certification. With this document, they can legally include the USDA organic seal on their labels.
State and local units are also involved in regulating the production, exportation, importation and sale of beauty products. Business owners wishing to venture out in this industry must study each department's requirements before they operate.
What Should Be on a Cosmetic Label? 
Different faces of the cosmetic packaging bear different types of information.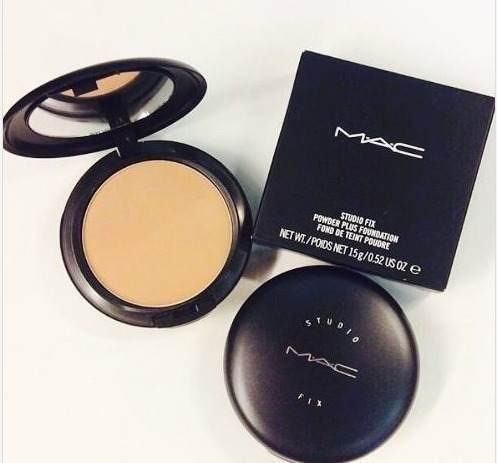 Location of the Cosmetic Label
Cosmetic labels may be classified according to their location on the packaging.
1. Principal Display Panel (PDP)
Beauty products may have one or more packaging layers.
For example, some cake foundation brands are encased in plastic palettes, further protected by an outer carton. The PDP is the most prominent side of the carton and is usually in front. 
By comparison, some aromatherapy oils are sold in brown bottles without an outer packaging. They are examples of single-layer packaging. The PDP is wherever the most prominent labels are found on the bottles' rounded surfaces.
The PDP is the first site that consumers normally inspect before buying. The FDA requires that PDP labels bear the following information:
Product name

Product identity

§740.10 warning, if it applies

Net quantity of contents
Some cosmetic packages have more than one PDP. In such cases, PDP labels must bear identical information.
2. Front Panel of the Inner Packaging
This applies to beauty products with more than one packaging layer. In such cases, the inner packaging's front panel must be labeled with the product's name.
3. Information Panels
Information panels are found at the sides, back and bottom of the packaging. Support information for outer and single-layer packaging includes:
Directions for safe use

Warnings

Manufacturer or distributor's business information

Ingredients list

Other required information
For those with multiple packaging layers, support information for the inner packaging includes:
Directions for safe use

Warnings

Manufacturer or distributor's business information

Net quantity of contents

Other required information
The conspicuousness of label information depends on the packaging's shape and size. Details on font measurements are outlined in the FDA's Cosmetics Labeling Guide. All information must be printed on a contrasting background and written in English. Foreign text must have an English translation right beside it.
Types of Information Required on a Cosmetic Label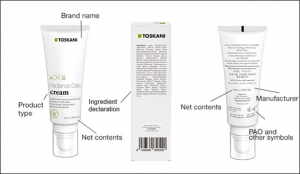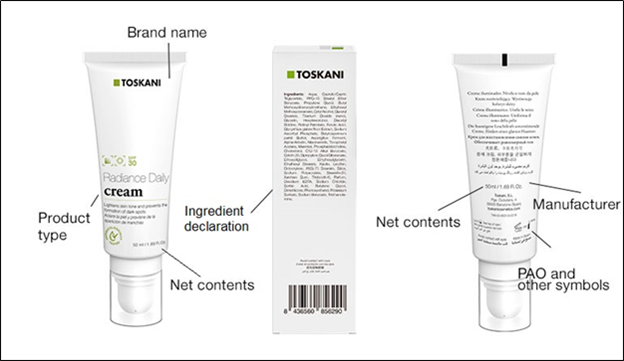 The following explains the cosmetic label information required by the FDA:
Product identity—this refers to the type of product, e. g. eyeliner, facial toner, etc. The product may use its common name, a descriptive term or a fanciful expression if its nature is obvious. An image may also represent the product identity on the label.
§740.10 warning—this indicates that a product or some of its contents have not been proven to be safe. The label should state, "Warning: The safety of this product has not been determined." A product is deemed misbranded if it has not been tested but lacks this warning, or if the manufacturer falsely claims that it has passed safety standards.
Safety can be proven by toxicological data, like whether or not the cosmetic's potentially hazardous contents exceed harmful levels. Manufacturers must submit toxicological evidence that their products pass safety standards before replacing or skipping the §740.10 warning on their labels.
Other warnings may be required depending on the product, ingredient and packaging type. The details of these are available on the websites of the government agencies that we mentioned above.
Net quantity of contents—it must be expressed in units that are recognized in the US. Exempt from writing this information are those in containers less than 1/4 av. oz. or 1/8 fl. oz. in size, as long as they are sold with proper display cards or properly labeled outer containers.
Manufacturer or distributor's business information—this includes the following:
Principal place of business—street address, city, state and ZIP code. The street address may be omitted if the company is listed in a phone directory or its current city.
If the corporate name and address are not those of the manufacturer, business information may be preceded by "Manufactured for," "Distributed by" or other appropriate phrases.

Country of origin—this applies to imported products. The country's name must be its English name, as required by the Tariff Act of 1930.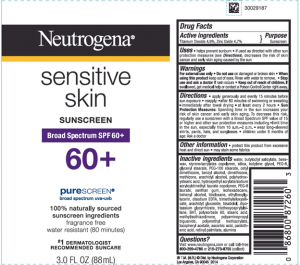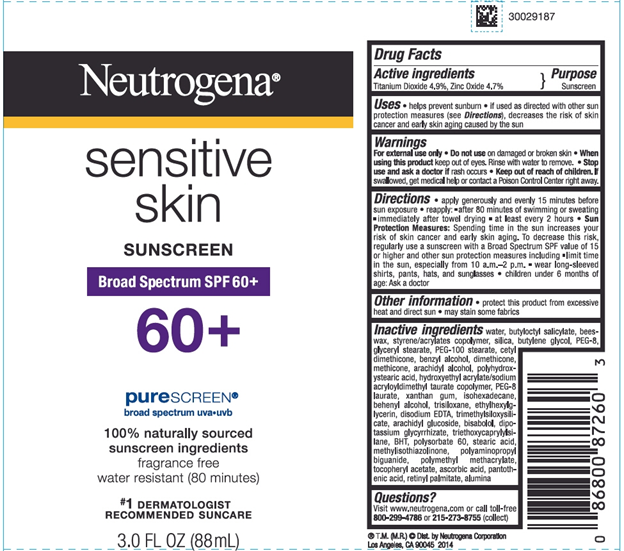 Several crucial points must be stated about the ingredient declaration.
Who needs an ingredients list on their cosmetic labels?
The ingredient declaration is required of cosmetics sold at retail places for home use. Beauty products used at professional establishments, such as salons, do not need it.
What ingredients should be declared on cosmetic labels?
Ingredients with a technical or functional effect on the product's final form have to be declared. They include pharmaceutical substances, caking ingredients, emulsifiers, scents, flavors, color additives, etc. They should be called by their publicly listed drug names, technical names or other names well known to consumers.
What ingredients do not need to be declared on cosmetic labels?
Secret and incidental ingredients do not need to be declared on cosmetic labels.
The FDA allows secret ingredients to remain undisclosed on a cosmetic label for justifiable reasons, like intellectual property protection. The manufacturer may just note them as "other ingredients" on the packaging. The FDA requires an exemption request from manufacturers wishing to keep their trade secrets confidential.
Incidental ingredients are processing ingredients that are later removed, completely converted to other chemicals or are present at insignificant levels. They leave no functional effects on the finished product. 
For example, activated charcoal is a key ingredient in some skin exfoliation agents. However, it is also an important impurity filter for plant extracts and essential oils used in moisturizers. In the latter case, it becomes an incidental ingredient because it is completely removed during filtration.
If an odor-masking or flavoring agent is used, its name does not have to be specified, either. For a scenting agent, it is simply called "fragrance" on the label. For a flavor, it may just be called "flavor." For substances that serve as both, they can be called "fragrance and flavor."
What is the order in which the ingredients should appear on a cosmetic label?
Generally, ingredients must be listed in order of decreasing predominance by weight. Fragrances and flavors are included in this rule.
Exceptions to this are the following:
Active drug ingredients—must be declared first if the cosmetic is also a drug.
Ingredients with only 1% concentration by weight or less—listed in any order, after the active and predominant ingredients.
Color additives—listed in any order, regardless of concentration, after the ingredients that are not color additives.
Secret ingredients—may be denoted by "and other ingredients."
Incidental ingredients—do not have to be disclosed.
Cosmetics sold in gift sets have more specific rules, which depend on product type and package size. They are beyond the scope of this discussion but are provided in detail in the FDA Cosmetics Labeling Guide.
What are off-package ingredients?
Off-package ingredients are those that are not declared on the packaging because of the following:
The product has no outer packaging.

The available surface area for labeling is less than 12 square inches.

The products are in tightly compartmentalized containers.
Off-package ingredients are written on a padded sheet or leaflet that may come with the product.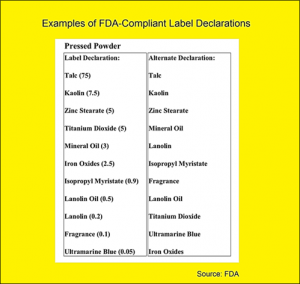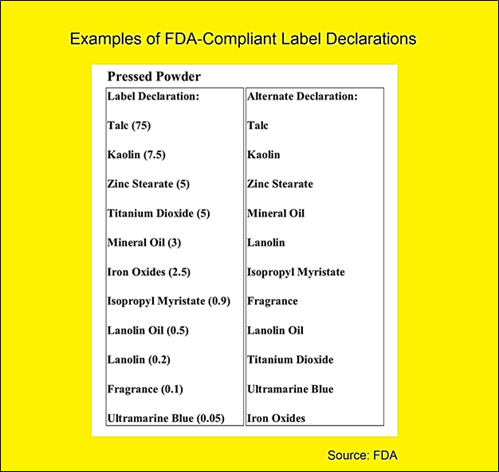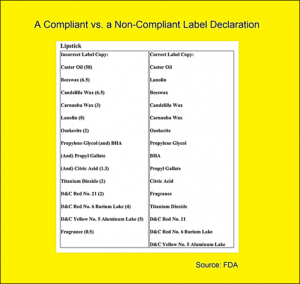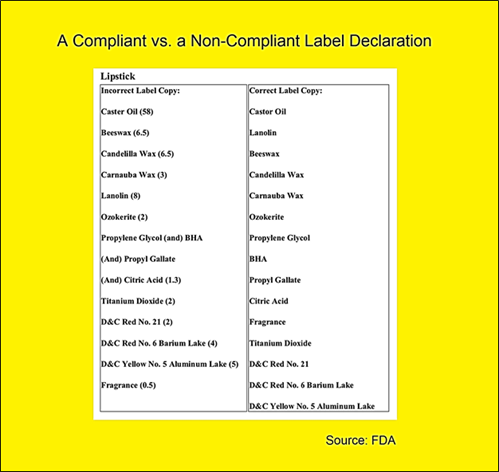 The FDA prohibits the sale of adulterated and misbranded products. Adulterated products are those containing unsafe substances or are manufactured under unsanitary conditions. On the other hand, misbranded products are those with deliberately misleading labels.
How Do the FDA Cosmetic Labeling Requirements Impact Small Businesses?
In food labeling, small businesses may be exempt from including the nutrition facts panel, but there is no similar rule in tagging beauty products.
The FDA does have additional reminders for small business owners engaged in the manufacture and sale of cosmetics. The most important ones are listed below.
Beauty products and their ingredients do not need premarket approval, unlike medical products. However, once proven harmful, the FDA may recommend sanctions against an erring cosmetics producer or retailer.

The FDA has no power to recall beauty products. Manufacturers and retailers usually withdraw them from the market voluntarily. However, companies that fail to do this may be requested or legally pressured to do so for public protection. All product recalls are subsequently monitored.

The FDA may inspect manufacturing facilities or test marketed cosmetics randomly to ensure correct labeling information and consumer safety.

The FDA does not require company registration before starting a cosmetics business. Neither does it require imported cosmetics to have a registration number, which is a necessity for food and medical products. However, establishments are encouraged to voluntarily register with the Voluntary Cosmetic Registration Program (VCRP), which will make them partners in public health protection.

Most cosmetic formulations do not need to be FDA-registered. However, beauty products acting as drugs and supplements with health and beautifying claims must follow the regulations for drugs and health foods, respectively.

Manufacturing cosmetics at home is allowed by law and does not need FDA registration. However, the Agency encourages voluntary compliance with the

Good Manufacturing Practice (GMP) Guidelines

to ensure beauty product safety.

The FDA has no definition for the words "natural" and "organic." These terms do not guarantee product safety, so the Agency encourages sticking to the standard names instead. However, as earlier mentioned, cosmetic makers may apply for NOP certification to have the USDA's organic seal.

The FDA discourages replacing the business address with a PO Box number or website.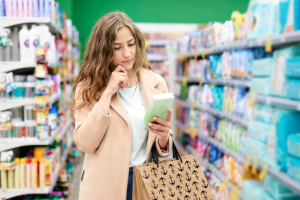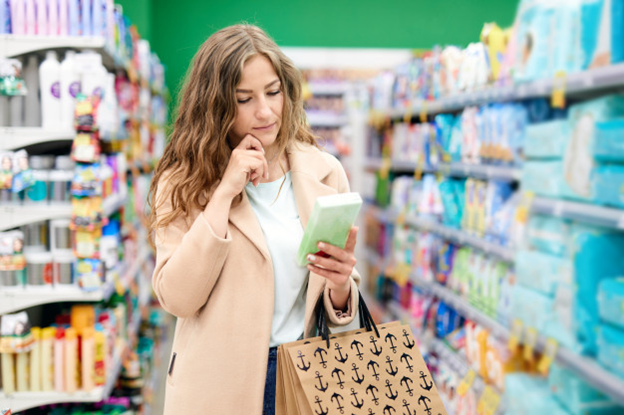 Lastly, as mentioned above, other government agencies also regulate the cosmetics industry. Business owners must check these authorities' additional requirements before embarking on this challenging yet exciting trade.
Conclusion
Beauty products are made of chemicals intended to enhance one's looks, and not all have safe ingredients. Cosmetic labeling is required to protect the public from injuries that may arise from their use. The FDA is the foremost authority regulating the industry, but other government departments are also involved. We encourage business owners to check their various requirements before starting a cosmetics business.